Paul Ruppa has written the following article for the Mandolin Journal of the Classical Mandolin Society of America (CMSA). To make this article available for the mandolin community he asked me to publish it in my blog.
---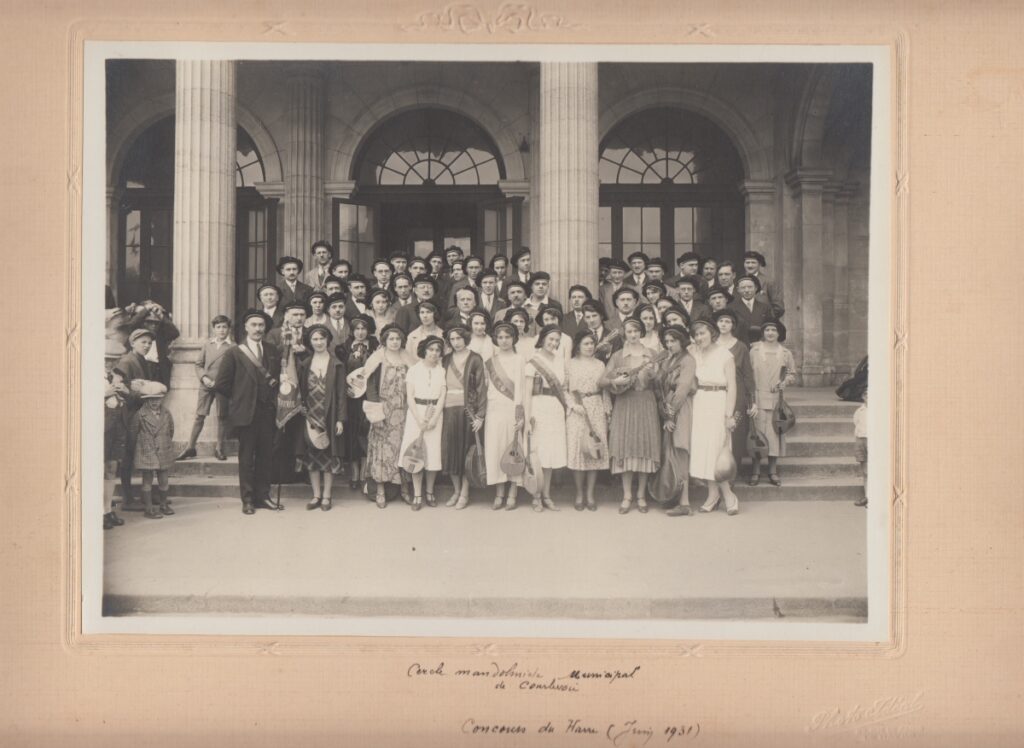 Using the internet three years ago, I began to build a list of the oldest active mandolin orchestras around the world. Initially, because I did not know the best way to search for the relevant information, the results were not very good. Even asking friends outside the United States for the names of the oldest active orchestras in their homelands was not very successful. After several years of starts and stops in the research, the list included only about thirty names.
With some time on my hands in 2020, expanding the list of the world's oldest mandolin orchestras seemed like a timely and important project. A motivating factor behind the project was the fact that my group, the Milwaukee Mandolin Orchestra was a well-documented 120 years old. It seemed unlikely that a mandolin orchestra in the Dairy State could be the home of the oldest such ensemble in the world. Thanks to generous members of the internet's mandolin community, we now know that there are at least a half dozen similar and older groups in Europe and many others with long histories.
The project took off on the "Mandolin World" Facebook page with a call for information about active mandolin ensembles that formed prior to 1971. There were a surprising number of responses. One of the best parts of the exercise was finding how much mandolin history has been made by devoted amateur, fretted-instrument players worldwide.
There were just 33 pre-1971 entries on the list when the project went online. In a few weeks, with the help of mandolin enthusiasts on the internet, 103 qualifying mandolin organizations were identified. In an attempt to make the list more readable, I set arbitrary milestones at 100, 50 and 30 years.
36 orchestras were at least 100 years old, two in that group had a tradition going backas far as 135 years.
53 in the next grouping were at least 50 years old and five began as early as 1922 (99 years ago)
14 active mandolin orchestras that started operating before 1971 provided start dates between 30 and 49 years ago.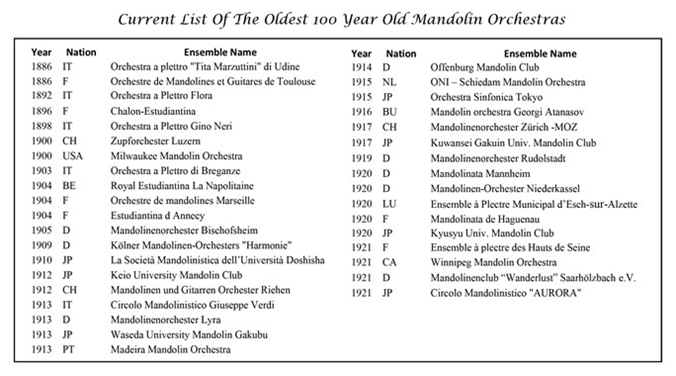 Mandolin orchestras from sixteen different countries were represented in the results of this project.
Read more

"The Oldest Mandolin Orchestras – Worldwide (Paul Ruppa)"