The 12th ARTE International Mandolin Festival & Competition took place in October 2022.
Roi Dayan from Israel won the first prize, Marine Moletto from France won the second prize, and Dilyara Sagdeeva from Russia won the 3rd prize.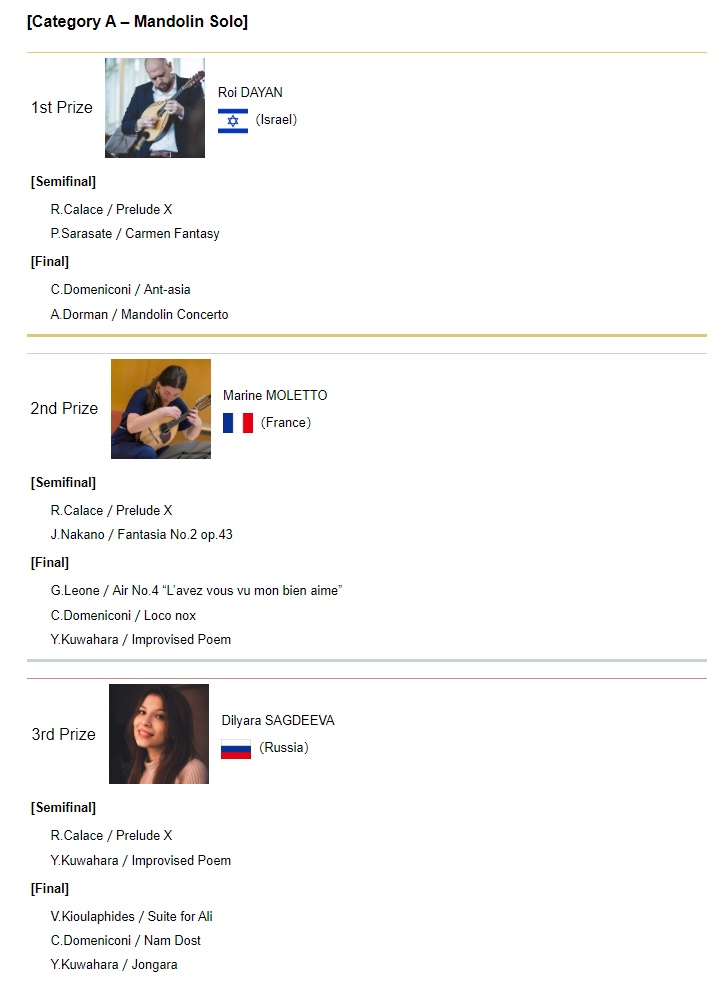 Videos from performances of the winners and participants are now available. This is a great occasion to see and hear the best mandolin players from the World and to hear some of the best compositions for mandolin.
Roi Dayan – Finale
2:38 C.Domeniconi / Ant-Asia
8:30 Avner Dorman / Mandolin Cocerto
Piano : Nozomi ASAHARA
Roi Dayan – Semi Finale
Piano: Nozomi ASAHARA
00:52 R.Calace/Prelude X
07:30 P.Sarasate/Carmen Fantasy
Marine Moletto – Final
1:05 G.Leone/Air No.4 "L'avez vous vu mon bien aime"
10:57 C.Domeniconi/Loco nox
18:13 Y.Kuwahara/Improvised Poem
Marine Moletto – Semifinal
00:21 R.Calace/Prelude X
07:55 J.Nakano/Fantasia No.2 op.43
Dilyara SAGDEEVA(Russia) – Semifinal
00:39 R.Calace/Prelude X
07:34 Y.Kuwahara/Improvised Poem
More videos from the 2022 event are available in the youtube channel