I have discovered the Stoneman Family some time ago. I was immedately thrilled by the performance of the group, especially by Donna Stoneman on the mandolin. I have learned that Roni Stoneman is considered "The First Lady Of Banjo".
You can see Donna Stoneman and her mandolin in the following video:
Donna is moving all the time, dancing, jumping and at the same time plays great and energetic mandolin music. And the performances by the Stoneman Family are almost always very funny.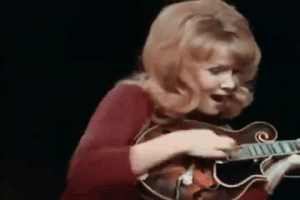 You can learn about the biography of the Stoneman Family in the following video:
Stoneman Family Bio
The Stoneman Family – Goin Up Cripple Creek
That's one of the signiture pieces by the Stoneman Family:
Playlist Stoneman Family
Read more "The Stoneman Family – With Donna Stoneman on Mandolin, Roni Stoneman on Banjo" →