You can find a great selection of Bluegrass, Blues, Americana and Country CDs to listen to at AirPlay Direct: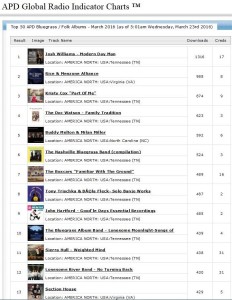 Use the Radio Charts to find new and often played CDs!
You can listen to many complete CDs, but in some cases the tracks are shortened. This is a selection of interesting CDs that I like to listen to:
Mile Twelve
Mile Twelve is a fresh, hard driving young band beautifully walking the line between original and traditional bluegrass. Fast gaining recognition for their outstanding performances in bluegrass and folk circles, Evan Murphy, Bronwyn Keith-Hynes, Nate Sabat, BB Bowness and David Benedict write captivating songs and daring instrumental pieces from diverse influences. Banjo luminary Tony Trischka says, "Mile Twelve is carrying the bluegrass tradition forward with creativity and integrity."
Mandolin Orange
At it's core, Mandolin Orange is a duo – Andrew Marlin and Emily Frantz – from Carrboro, NC. Their harmonies are ethereal, their chemistry vibrant, bringing to mind the atmosphere invoked by classic duos such as Emmylou Harris and Gram Parsons, or Gillian Welch and David Rawlings.
The Nashville Bluegrass Band (compilation)
I have bought this CD many years ago; it contains a great blues tune "Idle time" played by Mike Compton which I love to play very much! Also some great Bluegrass Gospel singing!
Mountain Heart (the live album)
Mountain Heart is the band that has been fearlessly revolutionizing the way acoustic music can be presented and played. The band's name has been synonymous with cutting-edge excellence in acoustic music circles since the group's creation in 1999.
Mary Beth Cross – Feels Like Home
… a live project, Home Grown Folk Y Grass, recorded and produced in Denver with the help of Chris Pandolfi (Infamous Stringdusters) and a cast of nationally recognized pickers. The songs are a combination of originals and familiar cover tunes.
Josh Williams – Modern Day Man
Sierra Hull – Weighted Mind
Orthophonic Joy – the 1927 Bristol Sessions Revisited
Sugar Creek Bluegrass
John Duffey / The Seldom Scene
Ashley Lewis
An Instrumental Anthology – Wayne Benson
Inside Llewyn Davis Soundtrack
Brimming with music performed by Isaac, Justin Timberlake and Carey Mulligan (as Llewyn's married Village friends), as well as Marcus Mumford and Punch Brothers, INSIDE LLEWYN DAVIS—in the tradition of O Brother, Where Art Thou?—is infused with the transportive sound of another time and place.
Audie Blaylock and Redline
Carl Jackson "Grace Notes" Artist Special Edition
Carl's latest project, Grace Notes, is a guitar instrumental portrait of dearly loved hymns. It was recorded using a collection of rare acoustic guitars, some dating back to the mid 1800's.
Nitty Gritty Dirt Band
Mark Twain Words & Music
The album, Mark Twain: Words & Music, is a double-CD telling Twain's life in spoken word and song.

(most of the songs and some texts are shortened to 1:30 – Buy CD at Amazon – partnerlink:  Mark Twain:Words & Music)
Grandpa Banana – Even Grandpas Get The Blues
Good Home Grown Music BMI – Daughters of Bluegrass
Janet McGarry – Wildwood Rose
For over fifteen years, Janet McGarry has continued to be a dominant presence in bluegrass music, both at home and abroad.
A Deeper Shade of Blue
Deeper Shade of Blue is the best kept secret in Bluegrass!!
This is a new and upcoming band that has been in the Carolina's local/regional scene for about 10 years and this is their 6th CD project called "No More Blues"
Deeper Shade of Blue is featured in the famous Bluegrass Unlimited Magazine (Nov.2012)
Sleepy Man Banjo Boys – The Farthest Horizon
Ten year-old banjo picker Jonny Mizzone along with his brothers Robbie (13) on fiddle, and Tommy (15) on guitar, are The Sleepy Man Banjo Boys. Though their combined age is younger than music's Hip-Hop era, it's the 1950's music of Flatt & Scruggs & The Stanley Brothers that inspires them. The Sleepy Man Banjo Boys are the result of brotherly-love, and a passion for inspiring others with their God-given musical gifts.
Kenny and Amanda Smith
Niall Toner
Bluegrass Power Picks 25 Traditional Classics
The Infamous Stringdusters – 'Silver Sky'
Wayne Benson – An Instrumental Anthology
LIFE GOES ON – Musicians Against Childhood Cancer (MACC)
Great Bluegrass Compilation!
Della Mae – I Built This Heart
Della Mae – The World Oft Can Be – Neues Album 2013
Emory Lester – Mandolin

–  Reminiscing Today:
–  Crusin' the 8:
– 1863 – Mark Johnson Emory Lester
John Reischman and the Jaybirds
More Ultimate Picking – Bluegrass Instrumentals:
Bill Monroe Centennial Celebration
O Brother Where Art Thou
New one-hour radio special looks back on the 10th anniversary of the O Brother Where Art Thou film and multi-platinum, "Album of the Year" Grammy-winning soundtrack that helped define the last decade of Americana music.
The Rounder Records Story
Steve Martin
– The Crow:
– Rare Bird Alert:
Sierra Hull
– Secrets:
– Daybreak:
Alison Krauss & Union Station – Paper Airplane (title song only ):
Masters of the Mandolin – Bobby Osborne & Jesse McReynolds:
Claire Lynch:
Banjo Man – Bill Emerson:
Michael Cleveland & Flamekeeper
Annapolis Bluegrass Coalition – Live At The Prince:
More Ultimate Pickin – Various Artists:
Essential Bluegrass – Bluegrass Gospel – Various Artists:
Jesse McReynolds & Friends:
Rosanne Cash – The List:
The Steeldrivers:
The SteelDrivers – Hammer Down
More links to be added!
Merken
Merken