Enrico Marucelli (1877 – 1907) was a bass player, guitarist, mandolin player, conductor and successfull composer. He was born in Florence and played in the Reale Circolo Mandolinistico Regina Margherita where he met several other famous mandolin players like Bianchi, Graziani-Walter, Matini and Carlo Munier.
During the 1890s he went to London as a popular teacher and conductor. He conducted a Ladies Guitar and Mandolin Band,  Rimembranze d'Amore is dedicated to this early mandolin orchestra. In the year 1900 Marucelli conducted an en masse orchestra  with 500 players, during this concert Marucelli's composition Spagnola has been performed.

Enrico Marucelli has also published two mandolin methods (I am still looking to get those methods…) and a guitar method.
Valtzer Fantastico
The most famous composition by Marucelli is the Valtzer Fantastico which is dedicated to Eduardo Mazzacapo.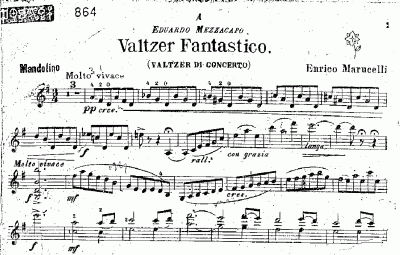 My favorite video with the Valtzer Fantastico – played by Mathieu Sarthe-Mouréou and Yann Pistien, played on a Vinaccia mandolin built in 1910.
[HD] Enrico Marucelli – Valtzer Fantastico for mandolin & guitar (LIVE)
Enrico Marucelli's Valtzer Fantastico for mandolin & guitar performed by Yann Pistien (guitar) and Mathieu Sarthe-Mouréou (1910 P.Vinaccia Mandolin).
There are many recordings of the Valtzer Fantastico in my youtube playlist.
Capriccio Zingaresco
Another famous piece by Enrico Marucelli is the Capriccio Zingaresco.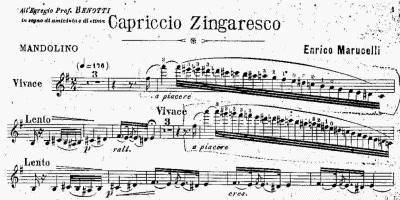 This is the fantastic recording with Detlef Tewes and Boris Bagger from the CD Romantic Mandolin Moments:
Enrico Marucelli Capriccio Zingaresco Mandolin Guitar Detlef Tewes Boris Björn Bagger
Playlist Enrico Marucelli – Valzer Fantastico – Mandolin & Guitar / Mandolin Quintet
I have added all the videos with other compositions by Enrico Marucelli as well to this playlist.
Works by Enrico Marucelli
Works by Enrico Marucelli contained in the Nakano Library (works that are available at youtube are in bold font)
3a Gavotta for mandolin quartet
Capriccio Zingaresco for mandolin quartet / mandolin and piano: All'Egregio Prof. BENOTTI in segno di amicizia e di stima
Caricature Op. 20 – Polka for mandolin or violin and guitar

Chi e? – Polka Populare; Riduzione di E. Marucelli; mandolin quartet
Diavoli Bianchi, Polka; mandolin and guitar
Fin de Siecle, Valzer Brillante; mandolin quartet
L'Avvenire, Valzer; mandolin and guitar or mandolin and piano
La Giostra, Mazurka; mandolin and guitar
La Pattuglia, Pezzo Caratteristico; mandolin and piano; guitar part by J. Nakano
Lionella, Mazurka; mandolin and piano
Melodie Charmante; mandolin quartet or mandolin and guitar
Moto Perpetuo, mandolin quartetor mandolin and piano
Patrol, Pezzo Caratteristico; mandolin quartet;
Polonese di Concerto, All'amico carissimo Gino Cinganelli; mandolin quartet or mandolin and piano
Rimembranze d'Amore (Love's Remembrances); Intermezzo, To the Ladies Guitar and Mandolin Band; mandolin quartet
Scherzo Militare; Pezzo Caratteristico; mandolin quartet
Sérénade des Amoureux; mandolin quartet
Serenatella Spagnola, All'amico Luigi Filanci; mandolin quartet
Sguardi Provocanti, Valzer; mandolin and guitar
Treno Lampo, Polka; mandolin and guitar
Valtzer Fantastico (Valtzer di Concerto), A Eduardo Mazzacapo; mandolin quartet or mandolin and piano
I have found one more piece by Enrico Marucelli in the collection Repertorio del Mandolinista which is available as free download from my homepage MandoIsland on page free sheet music
Marucelli has also published some compositions under the name E. Mario Celli – I have found two compositions in the Nakano Library:
Elegia for mandolin quartet
Pensieri Fugaci for mandolin quartet