I have recently started working on a new tune with my student – Dargason.
This tune goes back to John Playfords book about dancing – it just one line of music with instructions how to dance to the tune.


On the abc notation website you can find this tune as well: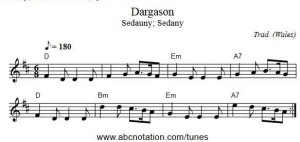 This tune is related to the very popular tune Irish Washerwoman which has a very similar melody in the first part.
Dargason is a great example what you can do with a simple tune when you work with it creatively. Swedish composer Gustav Holst who is best known for his "Planets" suite has composed the St. Paul's Suite for String Orchestra. The Finale from this suite is based on Dargason which is played over and over while the other instruments play chords, accompaniment or counterpoint – including the usage of another famous melody – Greensleeves. A fascinating piece which was invented by working creatively with this one-line melody from the 17th century.
As this composition belongs to the public domain ther are no restrictions for arrangements. I was happy to find the following version played by the San Francisco Mandolin Orchestra:
San Francisco Mandolin Orchestra – Dargason
Playlist Dargason
Including versions for String Orchestra, lute, harp ensemple, maqrching band, percussion ensemble, recorder and more:
Sheet music – Dargason – The Dancing Master
In the Petrucci Library you can find the original source "The Dancing Master" by John Playford in several editions:
John Playford – The Dancing Master:
You can find the St. Paul's Suite in the original version for string orchestra and in an arrangement for 15 saxophones.
Gustav Holst – St. Paul's Suite:
Merken