I have recently added a new page about the mandolin method by Giuseppe Branzoli on my page about mandolin methods.
I have also made a new scan of the first volume of the German edition of Branzoli's mandolin methodwhich has been published at the beginning of the 20th century by Universal Edition. This scan in high quality is now available as download on the musicaneo.com site.
On this occasion I have searched for videos with compositions by Branzoli.
Videos
Margherita (G. Branzoli)
8th Korea Mandolin festival with Fabio Menditto Trio July 9-11, 2009
Fabio Menditto mandolin
Angelo Ercoli double bass
Fabio Refrigeri guitar
Pensiero Affettuoso (G.Branzoli)-熱情
独創的綺想曲"熱情"(G.Branzoli)[Mandolin ensemble 1983]
(this is another recording of Pensiero Affettuoso)
DuoDea – di G.Branzoli: Spiritismo – Spain
Additional Information
My page about old mandolin methods:
http://www.mandoisland.de/eng_schulen.html
Mandolin method by Josef Branzoli (the German name "Josef" was used instead of the Italian "Giuseppe" for this edition) at musicaneo.com:
http://michaelreichenbach.musicaneo.com/sheetmusic/sm-175297_mandolin-method_for_the_neapolitan_or_roman_mandolin.html
All my sheet music at musicaneo – klick the next icon: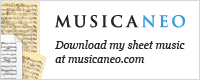 I am looking for the second volume of the German edition by Universal Edition!
Merken