The mandolin is not a popular instrument in Turkey today. The baglama is the plucked strings instrument that is mostly played in Turkey. But there are a few videos by Turkish musicians with mandolin. Some time ago I was told about the videos by Kerim & Selim Altinok. After I had watched several videos I found that both brothers began losing their sight when they were 4, and are completely blind since they were 18.
Despite of this they studied at the university and established their own company. They did also study music and started a successful carreer as musicians. And they are also fantastic players of chess and took part in international chess competitions.
Between 1940 and 1954 the so called Village Institutes existed in Turkey, institutes to educate teachers for schools for the education of boys and girls in rural countries. In those schols music played an important rule, and in many cases mandolin was taught to the students. I have found many pictures showing groups of mandolin players from this time.
There are some mandolin methods in Turkish language, one method is shown on the website of Kerim and Selim Altinok: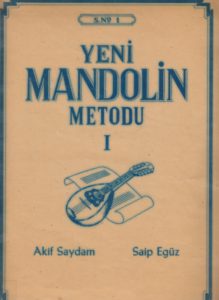 Selim, the mandolin player, has used youtube to discover the many ways the mandolin is played in the world. He would like that the mandolin gets a better place in the musical life in Turkey.
Playlist Kerim & Selim Altinok
Playliste 2 – Kerim & Selim Altinok
Additional Information
Linkcollection about Kerim & Selim Altinok
Newspaper article from Hürriyet
Brothers Kerim and Selim Altinok were born just 45 seconds apart. They partially lost their sight at the age of four and totally lost it a few days before their 18th birthday. Although they had to overcome difficulties fully sighted people would not have to, they have never stopped fighting.

They finished primary school, and at university, they graduated with honors from the Istanbul University Faculty of Law. They specialized in financial law. The brothers have also represented Turkey in the field of chess and Selim has drawn with world chess champion Anatoly Karpov.

Career and art

The Altinok brothers got involved in art while they were building their careers. They started playing various instruments at an early age and decided to become professional musicians. They passed the exams at the Istanbul State Conservatory.

As part of the Bakirköy Association for the Blind, the brothers formed a choir named Gözder, composed entirely of blind members, in 1991. They aim to share their knowledge from the conservatory with the choir and prove that all disabilities can be overcome with good music education.
Kerim & Selim Altinok at soundcloud
At soundcloud you can find a playlist with instrumental pieces, played with mandolins and guitar, including popular pieces like O Sole Mio, an arrangement of the Aranjuez guitar concerto by Rodrigo, ot the popular Southamerican tune El Condor Pasa.
Merken
Merken
Merken