Variations on "La Fustemberg" by Antoine Riggieri, played by Carlo Aonzo, Kozo Onishi, Mona Huang and Ugo Orlandi.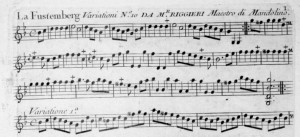 A modern edition of this work has been published by the publishing company Grenzland Verlag
KM-2018
Antonio Riggieri (um 1780)
"La Fustemberg" Variationen
Einrichtung: Marga Wilden-Hüsgen. Ein reizvolles Werk des Meisters des klassi-
schen Mandolinenspiels. Geeignet f. Wettbewerb "Jugend-musiziert", A.S. IV – V
Aufführungsdauer: 18 Min.; Schwierigkeitsgrad: mittel – schwer.
Preis: € 6,15
Playlist La Fustemberg – Variationi No. 10
The playlist contains recordings by Carlo Aonzo, Ugo Orlandi, Kozo Onishi from Japan and Mona Huang who plays on a baroque mandolin.
http://www.youtube.com/playlist?list=PLC878J8mcBo9gYuNa1Nmb6plwPToWIDMK
The works by Antoine Riggieri – a book with 125 pages – can be found in the National Library of Franc ( bnf). It contains the Variations on La Fustemberg at the end of the book beginning on page 122:
Titel : Menuets, allemandes et petits allegro à deux mandolines ou violon avec six sonates à mandolines ou violon. On trouvera une sonate à mandoline accord différant marquant dites accord avec le menuet chéri de l'auteur en variations… Oeuvre IVe. Gravé par Mme Oger…

Autor : Riggieri, Antoine. Compositeur

Verleger : l'auteur (Paris)

Erscheinungsdatum : 1770
http://gallica.bnf.fr/ark:/12148/btv1b9078913f.r=Riggieri%2C+Antoine.langDE
The melody "La Fustemberg" was very popular in Paris after 1770. I have found another work with variations on La Fustemberg for harpsichord in the bnf – this might be interesting too:
Titre : La Furstemberg avec 12 variations. Arrangées pour le clavecin ou le piano-forte… Seconde édition augmentée de six variations…
Auteur : Benaut, Josse-François-Joseph (1743-1794). Compositeur

Éditeur : l'auteur (Paris)

Date d'édition : 1778
http://gallica.bnf.fr/ark:/12148/btv1b90788118.r=La+Furstemberg+avec+12+variations.langDE