Frigg – Hot Fiddles from Cool Scandinavia
Frigg – a folk and dance band from Finland – will take part in the folk festival in Rudolstadt, Germany this year. Last year Frigg were on tour in the UK and in Switzerland.
Frigg has published 5 CDs and is very successful in Scandinavia. The last CD Polka V has got several awards including the "most successful album of 2012". You can find more about the awards on the Frigg website.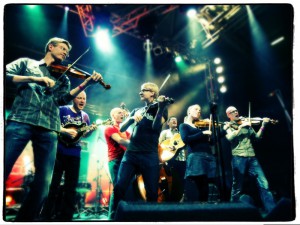 During an interview by the Philharmonie of Luxemburg Anti und Esko Järvelä of Frigg told about their music. The energy in the music needs to be transformed to a dance movement. Frigg wants to support the folk dance tradition of the North European countries
The sound of Frigg is based on the virtuoso playing of three or four fiddles. The fiddles play together in unison or in arrangements for several voices. The fiddles are accompanied by guitar, mandolin and double bass. Even the most complicated rhythms are played in perfect interplay. Most of the pieces are compositions by Frigg in the typical nordic style, inspired by the folk music of Scandinavia. Rock and Jazz elements or influences from folk dances of Eastern Europe are also included.
This is a video recorded last year with three tunes:
FRIGG I BODA 2012
The interview with Anti and Esko Järvelä:
Frigg interview @ the Philharmonie Luxembourg
My Frigg Playlist
Playlist Frigg by frogsummit
Additional information
Website Frigg: http://frigg.fi/
Finland's 'Frigg' – UK Debut Tour: http://www.folkradio.co.uk/2012/09/finlands-frigg-uk-debut-tour/
Economy Class: http://nordische-musik.de/musiker.php?id_musiker=2992&PHPSESSID=f969a
mandolin.org.uk – Featured Band Frigg: http://www.mandolin.org.uk/bio/94.htm
Philharmonie Luxemburg Blog about Frigg: http://blog.philharmonie.lu/tag/frigg/
Lotusfest Features Finnish Folk Collective Frigg: http://www.iu.edu/~iaunrc/newsevents/whats_new/lotusfest-features-finnish-folk-collective-frigg
Related articles about Finland and Scandinavia: