"When you start a band, this is all you really ever wanted to do – play Austin City Limits"- Chris Thile
From Wikipedia:
Austin City Limits (often abbreviated as ACL) is an American public television music program recorded live in Austin, Texas by Public Broadcasting Service (PBS) Public television member station KLRU, and broadcast on many PBS stations around the United States. The show helped Austin to become widely known as the "Live Music Capital of the World,"[citation needed] and is the only television show to receive the National Medal of Arts, which it was awarded in 2003.

On June 21, 2012, the Rock and Roll Hall of Fame and Museum in Cleveland, Ohio announced that nearly forty years of Austin City Limits footage will be digitally archived "in perpetuity" at the Museum's new Library and Archives; recordings from more than 800 live performances will be made available to the public.[1]
The last show featured the duo The Civilwars and the Punch Brothers. Chris Thile has informed about the show in his lates Punch Brothers newsletter – so I did watch the video this morning. This great show will be available for about 4 weeks until Dec. 1. 2012 – so do not miss this!
Direct link to the video with The Civil Wars and Punch Brothers:
http://video.pbs.org/video/2296123072
Main page Austin City Limits:
http://video.pbs.org/program/austin-city-limits/
You can also find short videos from past shows.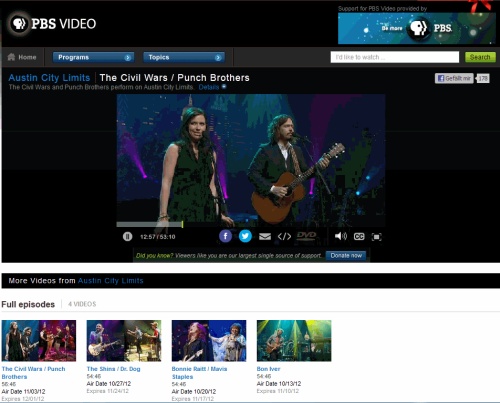 Additional Information
Website: http://austincitylimits.com/
Read the related article: Chris Thile and the Punch Brothers on Mountain Stage – Concert at NPR