The Quintetto a Plettro "Giuseppe Anedda" has recorded an album with ouvertures by Rossini arranged for mandolin quintet.
Quintetto a Plettro "Giuseppe Anedda"
Emanuele Buzi mandolin
Norberto Gonçalves da Cruz mandolin
Valdimiro Buzi mandola
Andrea Pace guitar
Emiliano Piccolini contrabass
The complete first track, the ouverture from "L'Italiana in Algeri" can be seen in the following promotion video: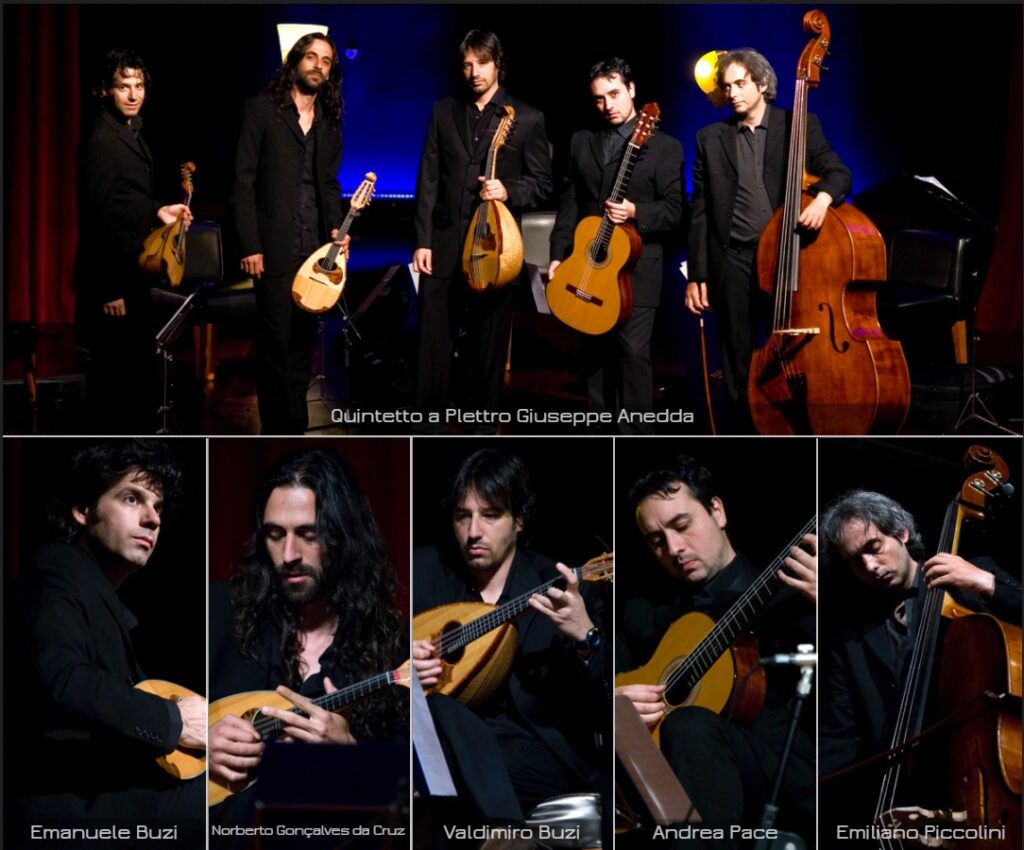 The Rossini anniversary of 2018 presented an opportunity to shed new light on these familiar works, but in a form that the composer himself would have recognised. This long-established mandolin quintet took a mix of old and newly commissioned arrangements and toured them across Italy to great success before making the present recording. The quintet takes its name from the mandolin virtuoso Giuseppe Anedda (1912-97) who popularised the instrument throughout his native Italy with his own ensemble and established for it a place in classical concert halls and modern works beyond the 'early music revival' of the 50s and 60s. He took part in pioneering recordings of Vivaldi and early performances of Stravinsky's Agon.
They commissioned Michele Di Filippo to arrange the first four overtures on this album: L'Italiana in Algeri (1813), Il Viaggio a Reims (1825), La Cenerentola (1817) and La Scala di Seta (1812). The other four overtures are from Il Signor Bruschino (1813), Il Barbiere di Siviglia (1816), Tancredi (1813) and La Gazza Ladra (1817), for which the quintet performs from transcriptions made and published in the first half of the 20th century by Mario Macchioci and Enrico Marucelli. All the arrangements preserve the heady excitement of the famous 'Rossini crescendo' as well as the chamber-like dialogue between wind and strings in the original scores.
Spotify Playlist