Last summer the EGMYO (European Guitar and Mandolin Youth Orchestra) has met in Germany for a workshop and two concerts.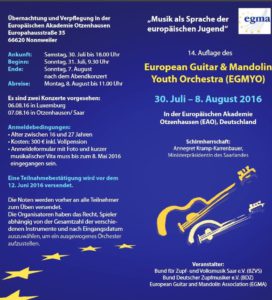 The workshop was organized by the Bund Deutscher Zupfmusiker (German plucked strings association). Now a set of videos about the workshop and the concerts is available. The workshop took place from July 30 to August 8 in the European Academy Otzenhausen (EAO) in Saarland in Germany.
The participants were about 50 young mandolin and guitar players from whole Europe, from Portugal in the south to Scotland in the north of Europe.
EGMYO 2016 – The Movie presentsthe participants, the team, the accordion-soloist Daniel Roth, the organisation, the rehearsals and the program in detail. The composer Marcel Wengler explains his composition "Konstellationen" which some of the players named the most interesting composition of the program.
The second playlist EGMYO 2016 contains the complete videos of the final concert on August 7, 2016 which took place in the Academy in Otzenhausen. The concert from August 6 in Echternach is also availabe as a video.
The program was composed of some very interesting compositions for plucked strings orchestra, including two pieces with accordion solo.
Norbert Sprongl (1892-1983) – Tanz-Suite op.103
Marcel Wengler (*1946) – Konstellationen and Wedding Dance
Luigi Salamon – Latin Bridge
Kenji Suehiro (*1979) – Meteorshower
Hiromitsu Kagajo (*1961) – Black Out
Bernard van Beurden: 4 Movements for Accordion and Mandolin and Guitar
Astor Piazzolla: Oblivion for accordion ansd plucked strings orchestra
Dominik Hackner: Danza Cubana
Giuseppe Manente: Reverie du Poète (arr. Dominik Hackner)
Armin Kaufmann: Mitoka Dragomirna op.62 (arr Vinzenz Hladky)
Playliste EGMYO 2016 – The Movie
Playliste EGMYO 2016 – The Concert
This playlist contains videos of all the compositions performed at the final concert of the EGMYO (European Guitar and Mandolin Youth Orchestra) under conductor Dominik Hackner at the European Academy in Otzenhausen on September 7th, 2016.
Galakonzert Echternach (complete concert)
August 6th, 2016; Saint Peter and Paul Church (Echternach, Luxembourg)
EGMYO – More videos and videos of previous workshops 2006 / 2011 / 2012
Additional Information
The History of the EGMYO: Founded in 1998 by the European Guitar and Mandolin Association (EGMA). Past projects have taken the EGMYO to various countries: Germany (1998), Spain (1999, 2008, 2011), Italy (2000, 2007, 2009), Greece (2003, 2006), Luxemburg (2005), Croatia (2010, 2012) and France (2014

The Team:

Dominik Hackner – Sinzig (Germany), Conductor and overall artistic director, Conductor, composer and musical director of the Mülheimer Zupforchester, the LandesZupfOrchester NRW "fidium concentus" and the Zupforchester Heimersheim. Vice-president of the BDZ.

Steffen Trekel – Hamburg (Germany), Mandolin 1 and Bandurria, tutor at the Hamburg Conservatoire and musical director of the German Federation of Plucked String Musicians.

Sebastiaan de Grebber – Zwolle (Netherlands), Mandolin 2 and Bandurria, musician and teacher at the ArtEZ Conservatoire in Zwolle.

Vincent Beer-Demander – Marseille(France), Mandola/Mandoloncello and Laúd, teacher formandolin at the Conservatoire Marseille and the Mandolin-Academy Marseille, composer and member of the CMF plectrum committee.

Prof. Stefan Jenzer – Freiburg, University of Music Saarbrücken (Germany) , guitar/double bass, and artistic director of the BZVS