Mandolin Mountain is a mandolin orchestra founded by Jouni Koskimäki from Finland. This year they were the main act for the Saku Mandolin Festival 2016. It's fun to watch the group perform, as you can see from the following GIFs that I have created form some of the videos: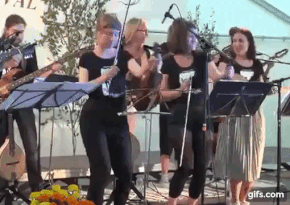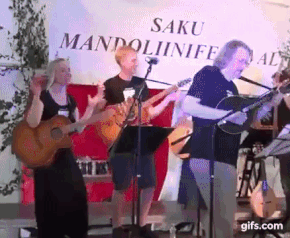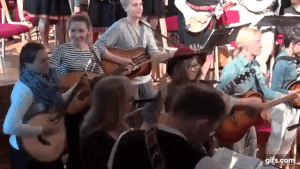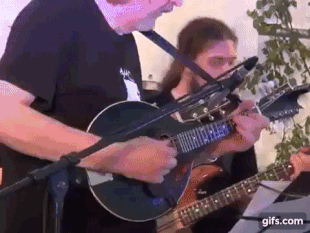 Mandolin Mountain has played at the Eurofestivals of the BDZ in Bruchsal, they have played in Spain in 2015 and now this year in Estonia. I have met Jouni Koskimäki several times in Trossingen and in Bruchsal.
The mandolin scene in Estonia is making great efforts to make the mandolin more popular.
Playlist Mandolin Mountain Saku Mandolin Festival
Additional Information
Mandolin Mountain – Information
MANDOLIN MOUNTAIN, alias MaMo is a Mandolin Orchestra, which was founded in autumn 2007 at the Department of Music at the University of Jyväskylä. Such a large Mandolin Orchestra has previously been seen in Finland way back in the Thirties. MaMo is Finland's biggest, most dynamic and most beautiful Orchestra concentrating on mandolin music – MaMo captures its audiences with skillful performances and tremendous stage charisma.
Information about the Saku mandolin orchestra from Estonia:
We are an orchestra of 33 players from Saku,

Estonia

(Estland).

We organize an annual mandolin festival and give many concerts with different programs.

Our FB page:

The festival FB page:

You can find many videos by searching Youtube with Saku Mandoliinid.

Next summer we will perform together with Mandolinen Orchester Bayer Leverkusen.

Estonia

has a strong mandolin tradition. Other orchestras active in

Estonia

:

Eesti Mandoliinide Orkester

Uhtna Mandoliinid

Tapa Mandoliiniorkester
Related post: