The last four editions of the radio show  "Roda de Choro" of the Brazilian Radio MEC were dedicated to the music of  Waldir Azevedo. This is a great chance to download almost three hours of music by Waldir Azevedo, with recordings from 1957 until 1979, as the radio shows are available as podcasts.
Waldir Azevedo was one of the most important composers of choros in Brazil, he has composed the famous tunes Brasileirinho, Delicado and Pedacoinhos do Ceu. Waldir Azevedo was the first player who used the cavaquinho as a melody- and solo-instrument.
Wikipedia:
Waldir Azevedo (Rio De Janeiro, January 23, 1923 – São Paulo, September 21, 1980) was a choro conductor and performer. He wrote 130 compositions during his lifetime and played the cavaquinho. He is considered by many to be the first Brazilian cavaquinho shredder ever. One of his compositions, Delicado [Baiao], is a Latin American dance that has been arranged for piano.
The Radio MEC choro podcasts are no more available!
I have made screenshots of the programs of the four podcasts dedicated to the music of Waldir Azevedo as a reference:
Part 1 – Nov. 6, 2012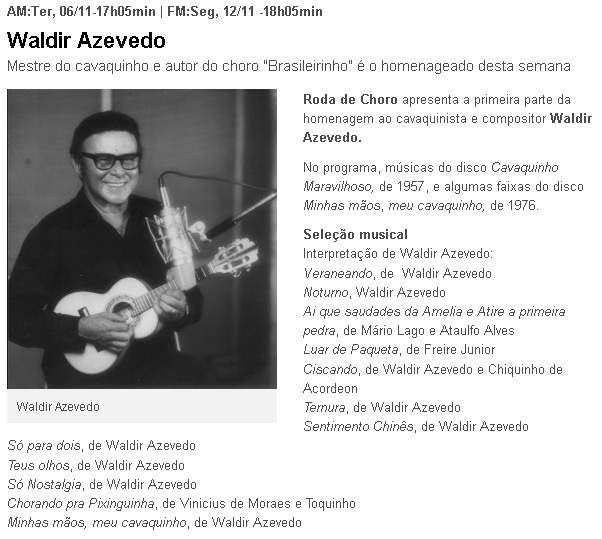 Part 2, Nov. 13, 2012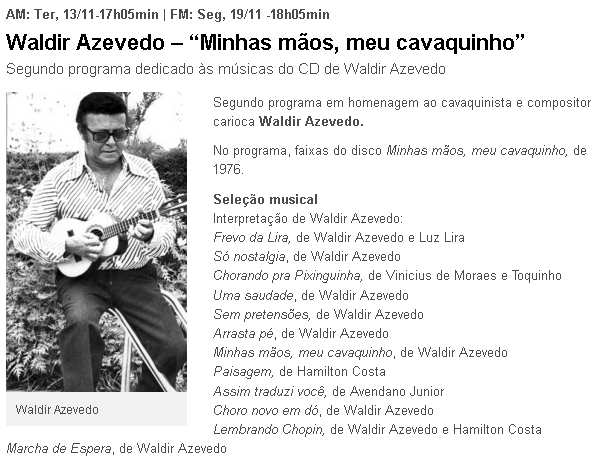 Part 3, Nov. 20, 2012 (not available as podcast at the moment)
Part 4, Nov. 27, 2012
with a great performance of Pedacinhos do Céu at the end of the show, played by Arthur Moreira Lima, Paulo Moura and Celso Machado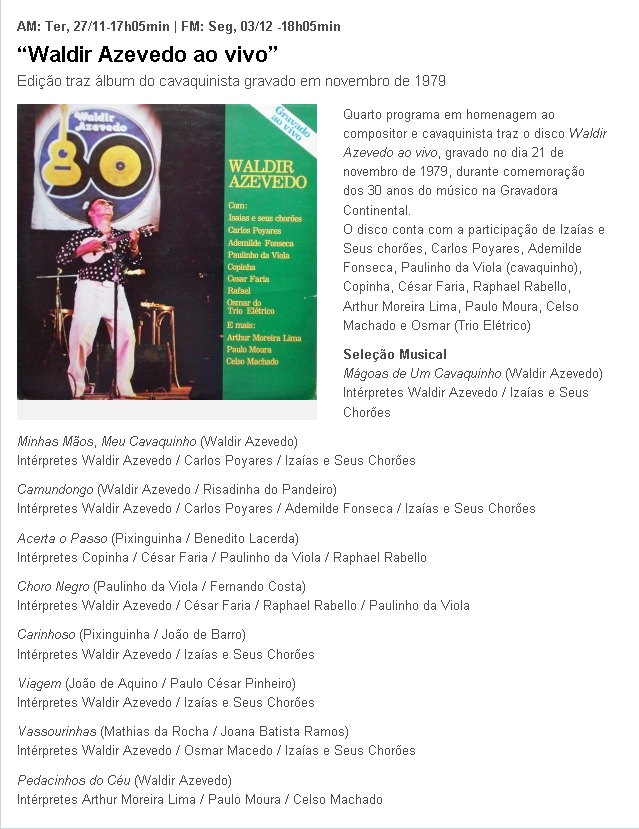 Playlist Waldiz Azevedo
 Additional Information
Great website about Waldir Azevedo – with a lot of information, pictures, discography and some interesting original videos (port.): http://www.waldirazevedo.com.br/
Waldir Azevedo biography (engl.): http://www.artistdirect.com/artist/bio/waldir-azevedo/570693
Articles in the choro blog about the cavaquinho and Waldir Azevedo:
http://keepswinging.blogspot.de/2006/11/cavaquinho.html
http://keepswinging.blogspot.de/2007/01/tributo-waldir-azevedo.html
Related articles in my blog:
more articles tagged "Brazil": http://www.mandoisland.com/?tag=brazil