Simone Salvetti (1870 – 1932) was an Italian composer, conductor and musician. He has composed more than 100 pieces for mandolin and guitar, two mandolins and guitar, mandolin quartet or mandolin orchestra.
In 2010 Ugo Orlando and Claudio Mandonico have organized the recording of a double-CD with works by Simone Salvetti.
The booklet of this CD in Italian and English language is available as download from the following site.
http://www.ilmandolino.com/CD.htm
Some compositions by Salvetti were played during the 9th Mandolin Festival in Korea, and some of the performances are available as youtube videos.
I have found the following compositions by Simone Salvetti at youtube (se my youtube playlist below):
Sprizzi e Spruzzi
Invocazione
Nuvole Grigie
Sul Lago Sebino
Vorrei Dirti
Le Piroette di Lulu
Pizzicoti al Buio
Sulle Onde del Sebino
Alla Fonte Igea
Poesia Alpestre
Tramonto Sul Monte Tonale
Ricordi di Breno
If you like traditional Italian mandolin music you should listen to the compositions by Simone Salvetti.
This is a performance of three pieces for mandolin and guitar by Ugo Orlandi (mandolin) and Luisella Conter (guitar):
9th korea mandolin festival S.Salvetti Le piroette di lulù e Nuvole grige e Vorrei dirti
Salvetti's composition Sul Lago Sebino is played by the Intermezzo Quartet from Italy:
Sul Lago Sebino
INTERMEZZO QUARTET
1° Mandolino: M° Giorgio Pertusi
2° Mandolino: M° Paola Esposito
Mandola: M* Antonio Fiori
Chitarra: Omar Fassa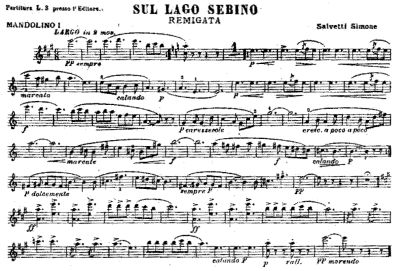 I have also found this historical recording of the Spanish Rhapsody by Simone Salvetti:
PUBLIC DOMAIN – Spanish Rhapsody – Athenian Mandolin Quartet
Victor 10 inch record #17990-A, "Spanish Rhapsody", played by the Athenian Mandolin Quartet (recorded February 25, 1916).
http://adp.library.ucsb.edu/index.php/matrix/detail/700002232/B-17209-Spanish_rhapsody
Playlist Simone Salvetti
http://www.youtube.com/playlist?list=PL140C4C6087DAB1A7
Additional Information
Link collection Simone Salvetti: https://pinboard.in/u:mandoisland/t:simone_salvetti/
Midi version of Invocazione: http://www.geocities.jp/h_ikem/invoca.htm
Midi version of Poesia Alpestre: http://www.geocities.jp/h_ikem/alpestm.htm