Sweet Melancholy Op. 235 is part of a collection of four pieces by Carlo Munier. This collection can be found as Nelly Album in the Nakano library.
The first two pieces have the main titles in English, with subtitles in French and Italian.
The four pieces are:
Sweet Melancholy ❉ Douce Mélancoli ❉ Dolce Mestizia, Romanza, Op. 235
Pretty Little Flower ❉ Petite Fleur Gentille ❉ Fiorillo Gentile, Schottisch, Op. 234
Mazurka ❉ Serenata, Op. 188
Valzer ❉ Cantabile, Op. 192
The first of this four pieces Dolce Mestizia as been recorded in a youtube video by the Mandolin and Guitar Quartet Estudiantina Bergamo.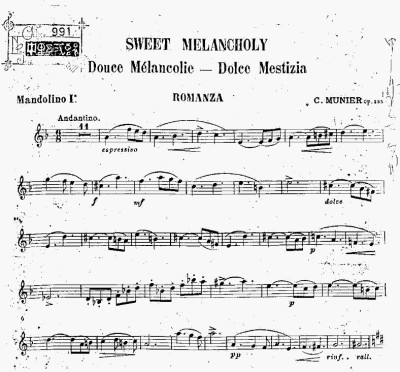 Mandolin Guitar Quartet Estudiantina Bergamo – C. Munier "Dolce mestizia"
Rassegna "I Lunedì dellEstudiantina" Suona il Quartetto Estudiantina per la Manifestazione "PIZZICANDO! – MANDOLINO E DINTORNI – Tra Barocco e Novecento" III Edizione – giugno/luglio 2011.
Omaggio a Carlo Munier nel centenario della morte (1859-1911)
"四重奏,曼陀林和吉他"
"Dolce mestizia" dalla raccolta "Nelly"
Bergamo Aula Picta, Piazza Duomo Città Alta – 11 luglio 2011
– Marina Ferrari e Chiara Perini, mandolini.
– Mario Rota, mandola.
– Michele Guadalupi, mandoloncello e chitarra.

カルテットマンドリンとギター
Sheet music avaialable in the Petrucci Library: Dolce Malinconia