Recently I have discovered a nice piece for the mandolin – the cakewalk South Car'lina Tickle by Adam Geibel.
I found this when I played through  a collection of mandolin pieces that was published as the Majestic Collection at the beginning of the 20th century.
Adam Geibel lived from  1855 until 1933, so the copyright for his works has expired.
Some of his compositions can be found in the IMSLP library, but not the South Car'lina Tickle.
I have found a scan of the sheet music for piano from a link on the website  Classic Ragtime Piano.
The scan was made by the Duke University and can be found on the following page:
http://library.duke.edu/rubenstein/scriptorium/sheetmusic/b/b03/b0376/
This is the page with the South Car'lina Tickle from the Majestic Collection that I have found on the Nakano website (click image for full size):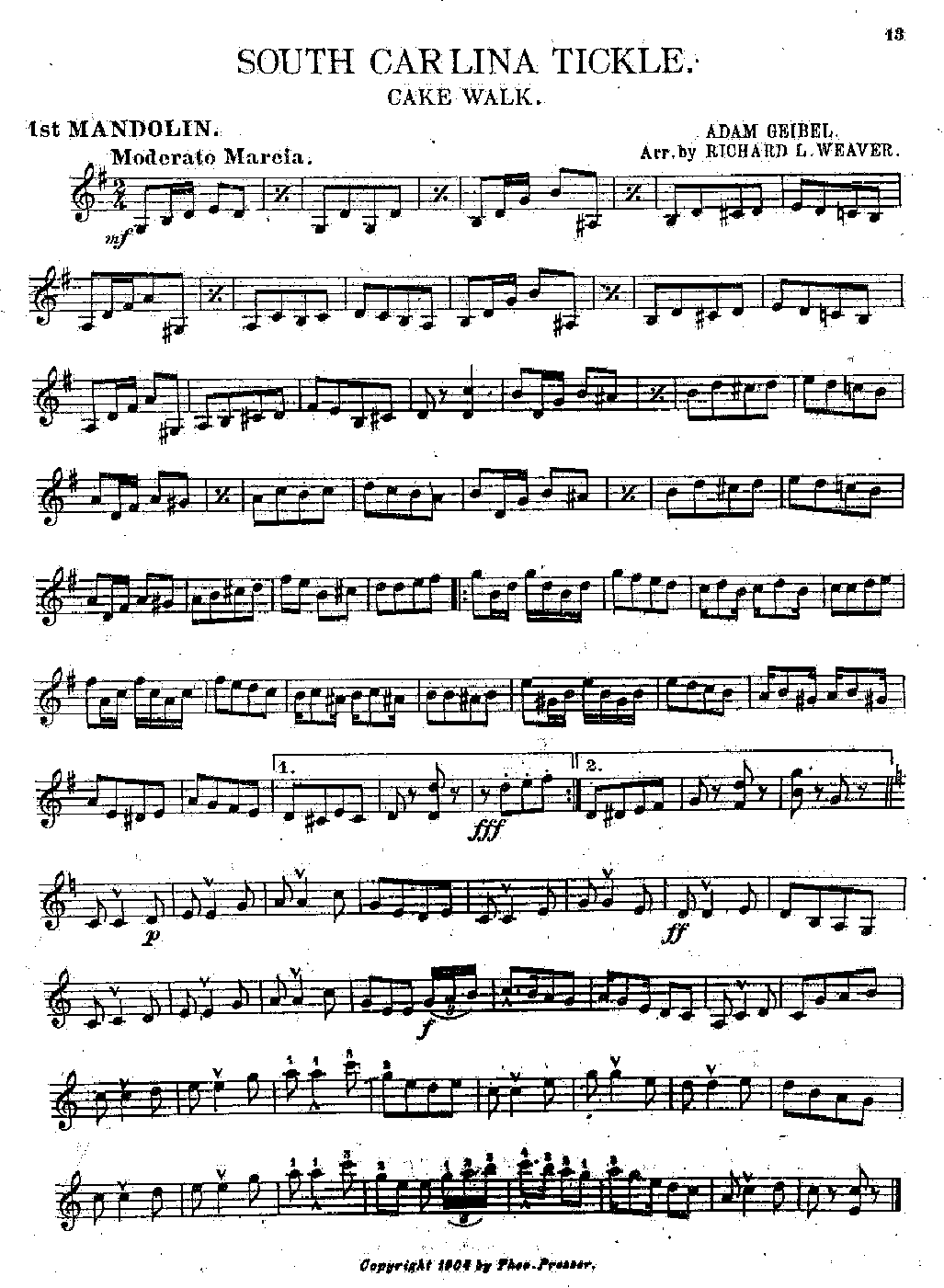 A Midi file of the South Car'lina Tickle is available here:
http://pitt-payne.com/component/remository/?func=fileinfo&id=3400
Another famous song composed by Adam Geibel is Kentucky Babe. I have found several versions of this song, one of my favorites is this great performance by the Voices of Liberty in historical costumes. More versions are contained in my playlist below.
Voices of Liberty singing Kentucky Babe
The Lawrence Welk Show: Kentucky Babe
This is a version of Kentucky Babe played on two guitars:
Two Oldtimers – Kentucky Babe
Instruments used: Epiphone Casino,
Gibson ES 135, Custom made Tenor Banjo,
Roland Keyboard, Spider 2 – Line 6 30 watt amp 12″ speaker, Fender FM 210R 65 watt amp two 10″ speakers
Playlist Adam Geibel
Playlist Kentucky Babe – Adam Geibel
Additional Information
Works by Adam Geibel at IMSLP:
Religious compositions by Adam Geibel (midi):
A great blog about ragtime music with more links to sheet music:
Free download of my version of the South Car'lina Tickle for mandolin and guitar:
Sweet Kentucky Babe – Sheet Music in the Levy Collection
Timeline Adam Geibel – Levy Collection
Merken