On the Virtual Gramophone site I found a recording of El Choclo – the famous tango written by Ángel Villoldo at the beginning of the 20th century – probably the most famous tango at all.
This tango has a long history, and many artists have created their very special versions – it is fascinating to follow El Choclo through this musical history.
I remembered that Marijke and Michiel Wiesenekker had also played El Choclo in a video and so I decided to write about El Choclo today.
I have compiled some interesting videos, links to interesting articles about El Choclo and sources where you can find sheet music for this tune.
Enjoy El Choclo!
만돌린 만도린 김병규 mandolin bikei_el choclo
Kim Bikei from Korea – mandolin and guitar
A version played by a Spanish bandurria an laud orchestra – a kind of a mandolin orchestra:
EL CHOCLO
ORQUESTA LAUDISTICA DEL BAJO ARAGON HISTORICO, INTERPRETANDO "EL CHOCLO"
My version of El Choclo for mandolin & guitar:
An early version of El Choclo:
Tango Argentino – El Choclo, 1929
Playlist El Choclo
with many more versions – guitar, accoreon, bandurria, orchestra, old versions, new versions, songs, instrumental versions – enjoy!
Historical Recordings
An early recording of this tango for mandolin & guitar: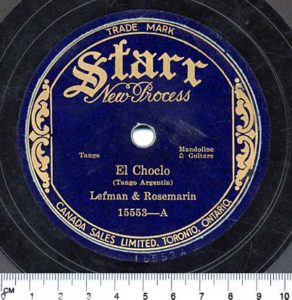 El choclo : tango argentin Lefman; Rosemarin (1929) bei Virtual Gramophone:
http://www.collectionscanada.gc.ca/gramophone/028011-9002e-e.html
DIGITAL CONTENT: http://www.collectionscanada.ca/obj/m2/f3/13280.ram
                   http://www.collectionscanada.ca/obj/m2/f1/13280-a.jpg
                   http://www.collectionscanada.ca/obj/m2/f7/13280.mp3
            NOTES: Commentaires: Tango; "New Process" figure sous le nom
                    Starr.
                   Référence discographique: Fonds de la Compo Company Ltd
                    (1918-1950), Bibliothèque nationale du Canada, date
                    d'enregistrement.
                   Distributeur: Canada Sales Limited.
                   Genre d'édition: étiquette principale.
                   Lancé: [ca avr 1929].
                   Lefman ; Rosemarin, mandoline et guitare.
                   Registré: [29 jan 1929], [Montréal, QC], Compo Company
                    Limited.
Additional information
Wikipeda (esp.): http://es.wikipedia.org/wiki/El_choclo
Wikipedia (engl.): http://en.wikipedia.org/wiki/El_Choclo
Article about El Choclo: http://www.todotango.com/english/biblioteca/cronicas/el_choclo.asp
Sheet music:
Guitar: http://www.free-scores.com/download-sheet-music.php?pdf=4115#
Piano: http://www.free-scores.com/download-sheet-music.php?pdf=26078
Piano: http://www.todotango.com/spanish/las_obras/partitura.aspx?id=24
Cello: http://thecellogeek.blogspot.com/2008/04/free-cello-sheet-music.html
Great resource for tango sheet music: http://www.mandragoratango.com/sheetmusic.php
Recordings
archive.org: http://www.archive.org/search.php?query=%22el%20choclo%22
Links
Homepage Marijke und Michiel Wiesenekker: http://www.wiesenekker.com/
Homepage Agrupación Laudística : http://www.harmoniazaragoza.org/