Mandolin Workshops, Festivals, Masterclasses, Lessons etc.
On this page I do regularly post information about mandolin workshops, teachers and other events.
———————————-
"eurofestival zupfmusik 2014" Bruchsal, 29th May – 1st June 2014:
you can apply now for taking part in the eurofestival zupfmusik 2014:
http://eurofestival-zupfmusik.de/
———————————
Stage International
du 20 au 27 juillet 2013
————————-
Masterclass in Modena, Italy
Masterclass with Mauro Squillante, Maria Ceofe Miotti, Roberto Palumbo:
30 sett/5 Ott 2013 with 3 Awards: 700, 300 euros and one painting by POLICARPO ARTIST.
———————
International Competition for Mandolin in Modena, Italy
International Mandolin Competition
From March 27 to 29, 2014, at the Musical Institute "O. Vecchi e A. Tonelli," an international competition sponsored by the mandolin luthier Carlo Mazzaccara will be held.
The competition will award, as first prize, a Mazzaccara concert mandolin. The winner may choose one of 3 different types.
During the master class, which will be held from September 30 to October 4, 2013, students will be able to view and try some of the instruments, both new and old, that will be awarded as prizes during the competition.
Carlo Mazzaccara | www.oldmandolin.com
http://www.mandolinoestense.it/concorso.html
————————————————–
Keith Harris Mandolin Lessons
Keith Harris offers personal mandolin lessons via the Internet. Details can be found on his website: http://www.mandolin-lessons.com/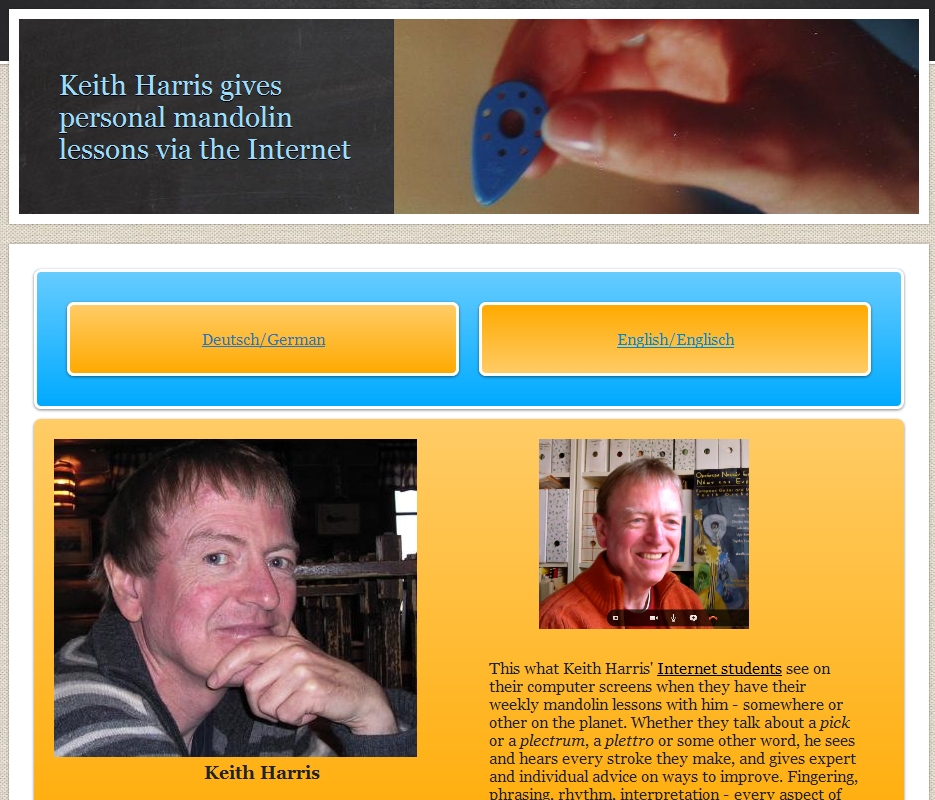 ———————————————–
Composition Competition ConTrastes-Rioja
ConTrastes-Rioja, from Logroño, La Rioja, Spain, convokes every year a Composition Competition for plucked
orchestras.
This year the participation terms are downloable in
http://www.bip-rioja.com/03concbases.html
We'll be happy if you spread
this information among the composers you know.
———————————————–
———————————————–
Information:
The Forum NRW 2013 -Masterclass for mandolin and guitar 2013 ( Artistic director Prof. Marga Wilden-Hüsgen) will take place from 05.08.2013 – 12.08.2013 in Herzogenrath, Germany in the location Nell-Breuning-Haus:
Forum NRW – Kurs für Mandoline und Gitarre 2013
Vorankündigung: Das Forum NRW – Kurs für Mandoline und Gitarre 2013 (Künstlerische Leitung Prof. Marga Wilden-Hüsgen) findet vom 05.08.2013 – 12.08.2013 wieder in Herzogenrath im Nell-Breuning-Haus statt.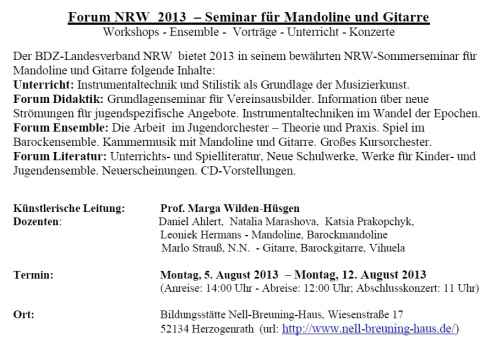 Tagungsstätte: http://www.nell-breuning-haus.de/
———————————————–
Festival International Mandolines de Lunel
http://www.mandolinesdelunel.com/
———————————————–
Festival Internacional de Plectro de La Rioja
———————————————–
Summer school of the mandolin orchestra Giocoso in Lieboch / Graz / Austria:
———————————————–
SommerMusikFest: http://www.sommermusikfest.de/
———————————————–
Sore Fingers: http://www.sorefingers.co.uk/
————————————————–
Find more seminars etc. on the following pages:
Gitarre-Aktuell: http://www.gitarre-aktuell.de/details.html