✵ Mandolin Workshops ✵ Festivals ✵ Masterclasses ✵ Lessons ✵ Competitions etc. 2016 ✵
On this page I do regularly post information about mandolin workshops, festivals, teachers and other events.
———————————-
European Guitar & Mandolin
Youth Orchestra (EGMYO)
30. Juli – 8. August 2016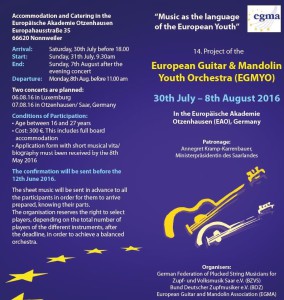 Conditions of Participation:
• Age between 16 and 27 years
• Cost: 300 €. This includes full board accommodation
• Application form with short musical vita/biography must been received by the 8th May 2016
For details check the following flyer: EnglishFlyerEuropeanYouthOrchestra_2
———————————–
River of the West Mandolin Camp
June 4 – 7, 2015
The instructors are Don Stiernberg, Evan Marshall, Chris Acquavella, and Brian Oberlin.
The 7th annual River of the West Mandolin Camp is June 4 – 7, 2015, in Corbett, Oregon, located in the Columbia River Gorge just 20 miles east of Portland.  Instructor's include Don Stiernberg (swing and jazz), Evan Marshall (classical and folk), Chris Acquavella (classical) and the Camp director Brian Oberlin (bluegrass and swing).   In the four days of mandolin immersion, each Camper will experience workshops from all four teachers, ensemble rehearsals and performance, structured and non-structured jams, bonfires, meals, and lodging.  The maximum student capacity is 45 which makes for smaller classes from some of the best teachers and players in the world.   The cost for campers and commuters is $550 which includes all events, meals, and a shared room.   Visit http://www.mandoberlin.com/river-west-camp.php  for more details and a registration form.
Camps in 2016 / 2017

ROW Mandolin Camp VIII – June 9 – 12, 2016
ROW Mandolin Camp IX – June 8 – 11, 2017
———————————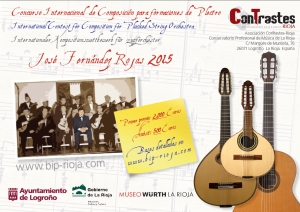 International Contest for Composition
for Plucked String Orchestra
"José Fernández Rojas"
An Event of the BIP-Rioja
(Bienal Internacional de Plectro de La Rioja)
The organisation ConTrastes-Rioja is associated with the department of guitar and
other plucked string instruments at La Rioja Conservatorium of Music. One of
the chief purposes of this organisation is to promote musical life in the Rioja
area, both generally and particularly in respect of the guitar and plectrum
instruments.
Information available at:
Rules (Pdf):
—————————–
mandolin | upgrade | guitar 2015
International Mandolin Festival – Berlin
Concerts, workshops, exhibition and master classes with artist from Germany and abroad. Ensemble Villa Elisabeth and Kirche St. Elisabeth, Berlin-Mitte. Check the link below to the festival site to find detailed information.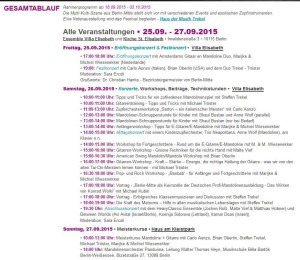 http://www.mandolin-upgrade.eu/home
——————————–
International Mandolin Academy directed by Maestro Carlo Aonzo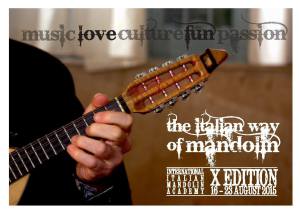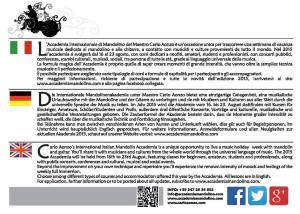 2015 Edition – August 16th-23rd
The International Mandolin Academy, directed by Maestro Carlo Aonzo, provides a unique opportunity for players of all levels to participate in a one-week musical holiday dedicated to the mandolin and the guitar. Together with musicians from all over the world, moments of intense cultural, musical and social exchange are shared with participants of all ages in which music becomes the common, universal language.
http://www.accademiamandolino.com/
——————————–
Keith Harris Mandolin Lessons
Keith Harris offers personal mandolin lessons via the Internet. Details can be found on his website: http://www.mandolin-lessons.com/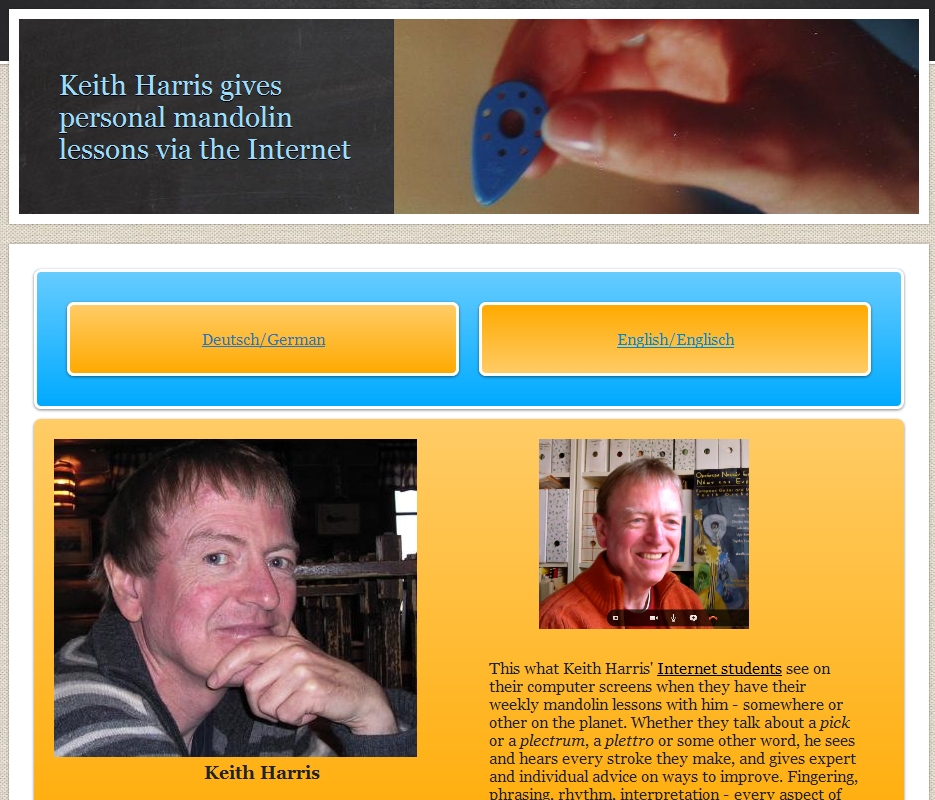 ———————————————–
Periodical Festivals
———————————————–
Festival international de mandoline de Castellar
 ————————————————–
 Festival International Mandolines de Lunel
http://www.mandolinesdelunel.com/
———————————————–
Festival Internacional de Plectro de La Rioja
Composition Competition ConTrastes-Rioja
ConTrastes-Rioja, from Logroño, La Rioja, Spain, convokes every year a Composition Competition for plucked
orchestras.
———————————————–
Summer school of the mandolin orchestra Giocoso in Lieboch / Graz / Austria:
———————————————–
SommerMusikFest
http://www.sommermusikfest.de/
———————————————–
Sore Fingers
————————————————–
Find more seminars etc. on the following pages:
Gitarre-Aktuell:
http://www.gitarre-aktuell.de/termine.html
BDZ