I have recently discovered a great new resource for learning to improvise on jazz tunes. Leo Ravera has compiled a set of exercises based on the chord progression of Take the A Train. Those exercise are very well suited for the mandolin.
This is the chord progression of the song.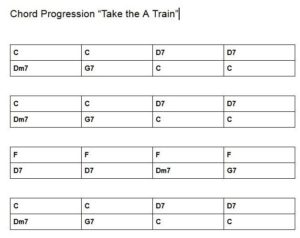 You can play the exercises using the sheet music on the site and play all the notes in the first position.
But there is another option. I propose to use the first finger for the root of every chord. You will need the following root notes: C, D G, F. The first finger needs to jump between the notes. You can play those notes on the 3rd and 5th frets of the D- and A-string. Or you can play the notes on the 5th and 7th fret of the G-string and the 3rd and 5tf fret of the D-String.


If you do it like this you can play the same sequence of fingers again and again.
Finger positions for major chord / scale (from C)

Finger position for minor chord / scale (from C)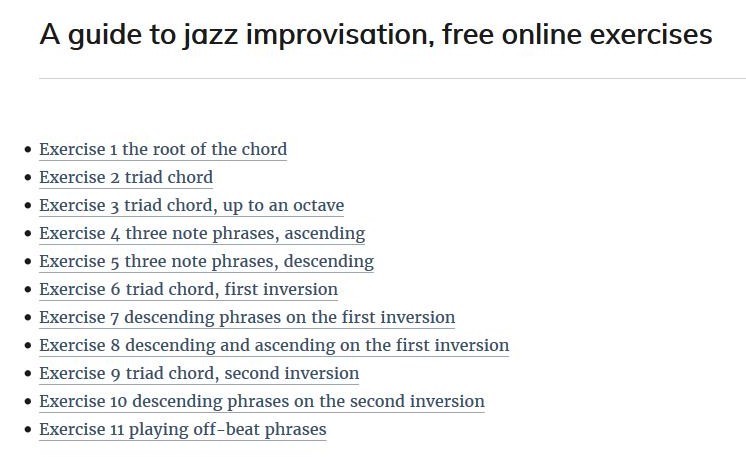 If you do always start with the 1st finger you will play the same sequences of notes just beginning with another position of the 1st finger. For the triads you must learn the difference between a major third and a minor third, or major and minor chords.
Note sequences (just as a quick reminder – check the website for the proposed rhythm):
1 (root)
1 – 3 – 5 (triad chord)
1  – 3 – 5 – 8 (triad chord, up to an octave)
1 – 1 2 – 3 2 – 1  (three not phrases, ascending)
3 2 3 1 (three not phrases. descending)
3 – 5- 8 (triad chord, first inversion)
8 – 5 – 3 (descending phrases on first inversion)
8 – 5 – 3 – 5 – 8 (descending and ascending triad chord first inversion)
1 – 3 – 1 – 5 (lower octave) – 1 (triad chord second inversion)
8 – 3 – 5 – 1 (broken triad chord)
how to play off beat
YOuo can use the playback from the website or one of the available backing tracks from youtub. I have compiled a playlist with some selected backing tracks.
Take the A Train – Playalong – Backing Tracks
Additional information
leoravera.it – Jazz Improvisation
In this page you find useful resources for studying jazz improvisation. There are many methods and books on jazz improvisation: transcriptions of solos by the great masters, collections of patterns, books on theory. However, in my own experience, I realized that the really difficult part is the initial one, i.e. the first steps. Many musicians study classical and only approach improvisation later on, perhaps already having a reasonable knowledge of harmony, but without ever having applied it to improvisation.

Before you start studying jazz improvisation, you should fully master major and minor scales in all keys, as well as triads and seventh chords.
Merken
Merken
Merken
Merken
Merken
Merken
Merken
Merken
Merken
Merken
Merken
Merken