Ernesto Becucci (1845 – 1905) was a popular and succesful Italian composer during the second half of the 19th century. Especially his composition "Tesoro Mio" has been successful all over the world.
His compositions have also been arranged for mandolin and mandolin orchestra. In the monthly reports about published music (Hofmeisters Monatsberichte) from 1906 I have found a note about the composition "Erhaschte Küsse Op. 294" in a version for mandolin solo or with piano or guitar accompaniment: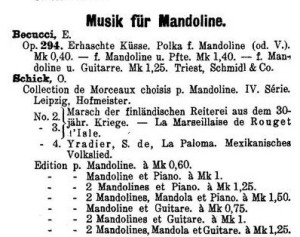 The composition "Che Ridere!" played by the mandolin ensemble "Mutinae Plectri" can be seen in the following video:
I have also found a historical recording with Troise and his Mandoliers (Selecta Plectrum Orchestra), a recording of  "Che ridere" by the Ensemble Ansamblul "ANIMO" from Moldavia and another version of "Tesoro Mio" with mandolins, mandocello and guitar (sheet music for this arrangement can be found in the Mandolin Cafe forum – see below).
There are many other versions with piano, accordion, carouselorgan or with bigger orchestras.
I have compiled compositions by Ernesto Becucci in the following playlist – enjoy the music by Ernesto Becucci!
Playlist Ernesto Becucci
Additional Information and Sheet Music
This is a well-known Italian waltz, originally written in 1895 for piano and adapted to many other settings over the following century. The original piano score is at IMSLP and there are many recordings, old and new, on Youtube. Pasquale Troise recorded it at one of his very first Decca sessions around 1929/30 (Link) with his Selecta Plectrum Mandoline Orchestra, shortly to be renamed "Troise & His Mandoliers".

Becucci was a popular composer of the day and this is his best-known tune. He was a contemporary of Carlo Munier in Florence, and Munier dedicated his Duettino I to Becucci.

My recording is based on an arrangement for two mandolins and guitar published around 1910/20 by A. Paolilli's Music Co., Providence R.I., and uploaded by Sheri in her Dropbox thread. I have recorded the original mandolin parts on vintage Italian bowlback mandolins, and have added a mandocello bass line to the guitar rhythm.
You can also find a number of free sheet music downloads for piano in the French National Library bnf:
Another compostion can be found on the site of James Garber:
Sheet music by Becucci from the Nakano library