Carlo Munier is one of the most important composers for the mandolin of the 19th century. Munier has composed about 300 pieces for mandolin, mandolin and guitar, mandolin quartet, mandolin and piano, two mandolins, mandolin trio and more.
The works by Carlo Munier for mandolin are played frequently, and there is a great number of youtube videos available.
I plan to present the most important works in my blog and collect the posts and additional information about Carlo Munier on a special page.
———–
Carnevale di Venezia – Fantasia Variata – for mandolin quartet or mandolin and guitar.
Munier has composed this variations about the well known melody The Carnival of Venice for mandolin quartet.
The sheet music for this composition can be found in the Nakanao archive (for registered users).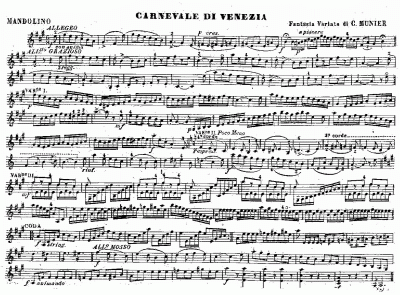 I have found eight videos at youtube of this piece, with versions for mandolin and guitar, mandolin quintet and also with a bigger mandolin orchestra.
This is my favorite version:
Carlo Munier – Carnevale di Venezia (LIVE)
Carlo Munier's Carnevale di Venezia for mandolin & guitar performed by Yann Pistien (guitar) and Mathieu Sarthe-Mouréou (1910 P.Vinaccia Mandolin).
Recorded live on sept 21th 2010, St-Roch Church, Paris.
Thème et Variations sur "le carnaval de Venise" de Carlo Munier pour mandoline et guitare.
Mandoline : Mathieu Sarthe-Mouréou / Guitare : Yann Pistien
mandoline P.Vinaccia de 1910.
Enregistrement live aux "mardis musicaux de St-Roch" le 21/09/2010, Eglise St-Roch, Paris 1er.
A version for mandolin quintet from Japan:
Munier – Carnivale di Venezia: NOVA Plectrum Quintet
Carlo Munier's "Carnevale di Venezia" was played by the "NOVA Plectrum Quintet"(mandolin and guitar quintet). This video was from the live performance of Mandolin Orchestra NOVA's yearly concert held on November 2, 2003. The members of "NOVA Plectrum Quintet" were Takashi Tomizawa(first mandolin), Masaichi Ono(second mandolin), Keiko Tomizawa(mandola), Sadato Ozawa(mandoloncello), and Masaichi Hasegawa(guitar).
Playlist Carlo Munier – Carnevale die Venezia
http://www.youtube.com/playlist?list=PLB00C8CC778C8DA25
Additional information
Website about the many versions of  Carnival of Venice: http://www.berksweb.com/users/carnival/
Elke Tober-Vogt has also composed variations about  Carnevale di Venezia for mandolin and guitar – watch the video of this:
Carnevale di Venezia, Tober-Voigt [Michele De Martino-Vincenzo Amabile]