The Kujawiak by Henry Wieniawaski belongs to the preferred pieces for recitals of young violin players – you can find many examples as youtube videos – here you can see the Kujawiak played by young violinist Martin Zayranow from Bulgaria:
Martin Zayranov Wieniawski Kuyawiak.avi
During the late 19th century this famous piece was also played by mandolin players. In 1894 Jean Pietrapertosa published his arrangement for the mandolin. I do also own a version for Mandolin Solo published in the collection A Variety of Mandolin Music – here is a screenshot from the first part of this arrangement: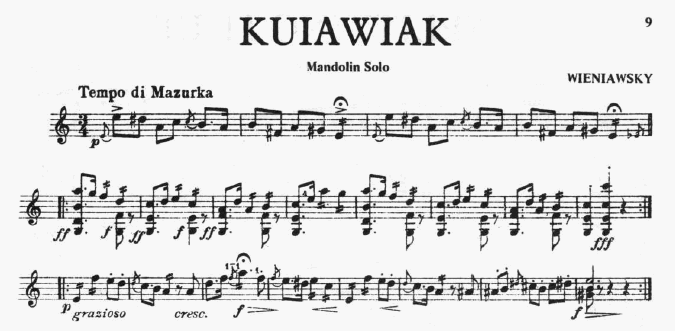 In the english Wikipedia you can find the following description:
The Kujawiak is a Polish folk dance from the region of Kujawy in central Poland . It is one of the five national dances of Poland, the others being the krakowiak, mazur, oberek, and polonaise.

The music is in triple meter and fairly slow. The dance usually involves couples walking gracefully in a quarter-note (UK: crotchet) rhythm, on slightly bended knees, with relaxed turns and gently swaying. Women's Kujawiak dances are also performed.
If you play a folk dance it is always recommended to watch a real dance to get a godd impression about the tempo and mood of the dance. This is a video with a danced Kujawiak:
You can find the complete original score for the Kujawiak by Henry Wieniawski in the IMSLP library (see below).
The piece is not that difficult, and sounds great with the chords on mandolin.
Let's end this post with two great version played on the violin:
Henry Wieniawski "Mazurka"
Piotr JANOWSKI violin, "Kujawiak" by Henryk Wieniawski
More Information
Wikipedia  about Henryk Wieniawski: http://en.wikipedia.org/wiki/Henryk_Wieniawski
Free scores by Henryk Wieniawski in the IMSLP archive: http://imslp.org/wiki/Category:Wieniawski,_Henryk
Some other versions of Kujawiak dances from the ABC site: http://abcnotation.com/searchTunes?q=kujawiak&f=c&o=a&s=0