Uncle Earl is currently touring through Germany, last Friday the group composed of five women played their second concert of this tour. During the next weeks the group will play in Germany and Switzerland. All tour dates can be found on the myspace site of  Uncle Earl: http://www.myspace.com/uncleearl
UNCLE EARL Live in Germany 2010
The concert in Freiburg took place in the Wodan Halle, part of the local Ganter brewery that is regularly used for folk, country, bluegrass, rock or  singer songwiter concerts. I enjoyed the concert very much, and I took some photos which give some impressions:
Photo Album Uncle Earl – Wodanhalle Freiburg
The lineup of the Band 2010 (taken from the  Uncle Earl Myspace page)
Here is one of the photos – the band just enjoys the first beer, as you can see: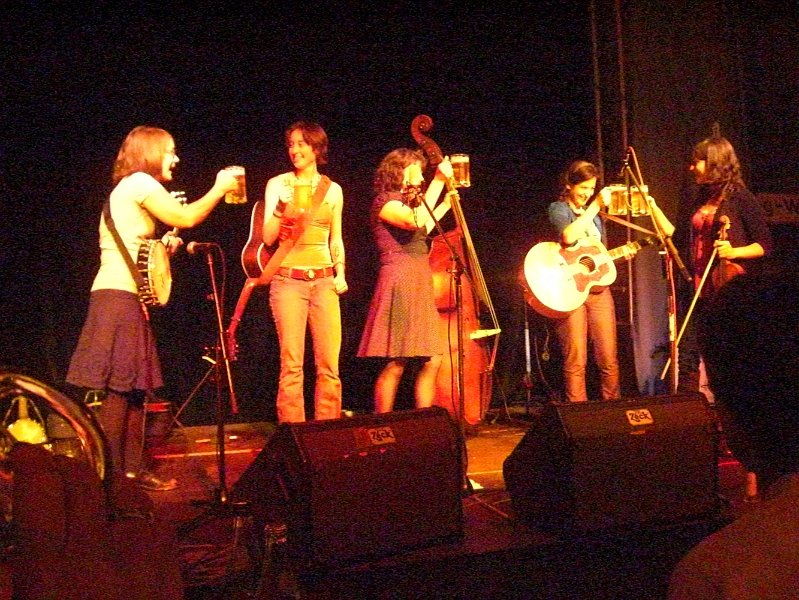 I did especially like the clogging and the piece Crayola by Kristin Andreassen – here is a video of this recorded in November 2009:
Uncle Earl – Crayola
Kristin Andreassen and Uncle Earl performing at the Capitol Arts Center in Bowling Green, Kentucky on November 17, 2009.
If you get the chance to see Uncle Earl during their Germany tour you should not miss this chance!
Playlist with some interesting Uncle Earl Videos
Additional Information
Uncle Earl Myspace page with tour dates, audio examples and more videos: http://www.myspace.com/uncleearl
cocert review: http://www.country.de/2010/05/04/uncle-earl-neo-old-time-music-live-in-europa-zu-erleben/
Listen to album: Uncle Earle Waterloo Tennessee : http://airplaydirect.com/music/UncleEarlWaterloo/
Merken
Merken
Merken