The Berkeley Mandolin Ensemble was a classical mandolin ensemble. The ensemble travelled to Germany for the German Zupfmusikfest in Bonn in 1978. It was also part of the production of the CD "Rudy Cipolla – Mandolin Maestro". It did travel again to Germany in 1982 for another Zupfmusikfest.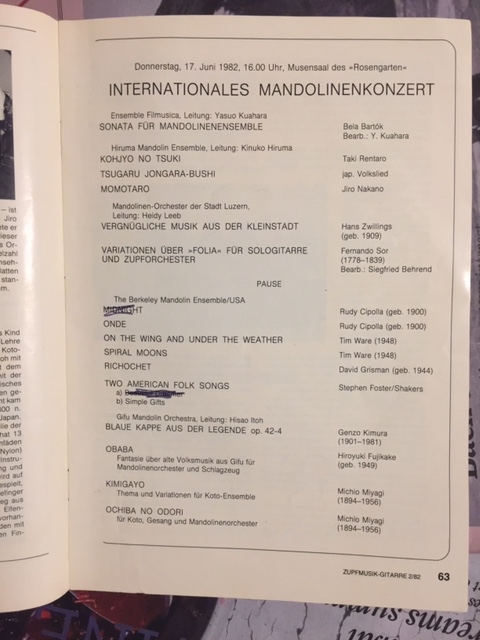 Kennet Frankel who played mandolin, mandola and mandocello in this group between 1976 and 1979. He has made available some recordings by the Berkeley Mandolin Ensemble on his website.
1976-1979 Berkeley Mandolin Ensemble
After my mandolin quartet, I played mandolin, mandola, and mandocello with this wonderful group in concerts, on radio, and on TV. I traveled with them to Germany as the only USA representative at the 1976 German Zupfest.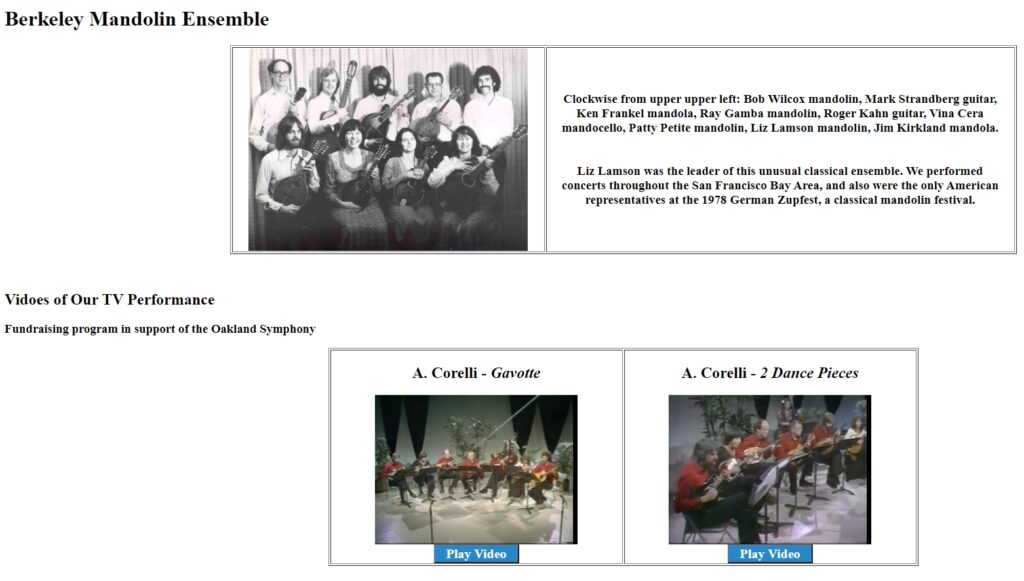 The Berkeley Mandolin Ensemble played pieces by German composers Konrad Wölki and Kurt Schwaen, transcriptions of lute music, pieces by Ludwig van Beethoven, Ragtimes by Scott Joplin and more.
Rudy Cipolla recording
The ensemble was part of the Rudy Cipolla album The World of Rudy Cipola which was recorded in 1982 and 1983.
Interview 1987
The Berkeley Mandolin Ensemble with Owen Hartford and Rudy Cipolla gave an interview with live performances in 1987 which can be found in the Rudy Cipolla archive by Sheri Mignano-Crawford. Discussion in the Mandolin Cafe with link to a collection of recordings and sheet music by Rudy Cipolla. The ensemble plays works by Vivaldi, Owen Hartford and Rudy Cipolla.
Radim Zenkl and Sheri Mignano-Crawford played with the ensemble in 1989, there is a picture of the ensemble from 1989 on Radim Zenkls website.
Additional Information
Website: http://www.kenfrankel.com/Music/BME/BME.html
History: http://www.kenfrankel.com/music%20history.html
Radim Zenkl – Photos – includes a photo of the Berkeley Mandolin Ensemble from 1989.