I have just bought an old edition of Estudiantina Waltz by P. Lacome – Jean Pietrapertosa has published this version for mandolin and piano. I have also made a scan of this edition which is available now as free download on my website.
I have tried to find some information about this compositiona and recordings of this waltz and here is what I have found.
The Estudiantina Waltz was composed by P. Lacome. Emil Waldteufel has used the melody and some other Spanish melodies in his composition Estudiantina Op. 191.
Jean Pietrapertosa has published the waltz as his Op. 8 for mandolin and piano around 1889. Obviously this waltz was quite popular during the late 19th and early 20th century.
On the website http://www.planet-vienna.com/musik/komponisten/Waldteufel/werke.htm I have found some information about the composition by Emil Waldteufel:
Anmerkung: Wie auch bei 'España' handelt es sich bei 'Estudiantina' um ein Arrangement, welches aus bereits bestehenden Themen anderer Komponisten besteht. Der Verleger Enoch beauftrage Waldteufel, einen Walzer zusammenzustellen, der auf dem berühmten Duett 'Estudiantina' (Bezeichnung für eine Gruppe von Studenten) von Paul Lacome (1838-1920) basiert. Dieses Thema jedoch reichte nur für die ersten eineinhalb Sequenzen von 'Estudiantina'. Daher suchte Waldteufel weiter in der Vielfalt der französischen Adaptionen original spanischer Lieder. Die vier Walzerthemen von 'Estudiantina' beinhalten folgende Lieder: 1. Estudiantina (Refrain), 2. Estudiantina (Strophe) und 'Chanson d'automne' (ebenfalls von Lacome), 3. 'Jota de la Estudiantina' und 'Tirana', 4. 'De Cadiz al Puerto' und 'El Tripili'. Lacomes 'Estudiantina' wurde im Dezember 1881 veröffentlicht, Waldteufels Walzer im April 1883. Wie auch 'España' ist dieser Walzer ein Muster an Lebhaftigkeit. Die wunderbaren, zügig dahinfliessenden Melodien befördern den Zuhörer geradewegs auf einen wogenden Wellenteppich, welcher ihn für einen Moment in den sonnigen Süden bringt…

Translation: As in "Espana" "Estudantina" is an arrangement which is composed of themes composed by other composers. The publisher Enoch ordered a waltz based on the famous duet "Estudiantina"  (i.e. a group of students playing music together) composed by P. Lacome (1838 – 1920). However this theme was not sufficient for the complete composition, so Waldteufel looked for other themes in the large amount of French versions of Spanish songs. The 4 themes of the Estudiantina Waltz contain the following songs: 1. Estudiantina (Refrain), 2. Estudiantina (Strophe) and 'Chanson d'automne' (also composed by Lacome), 3. 'Jota de la Estudiantina' and 'Tirana', 4. 'De Cadiz al Puerto' and 'El Tripili'. Lacomes 'Estudiantina' was published in Dec. 1881, Waldteufel composition was published in April 1883.
There are several historical recodings of Estudiantina, mostly short versions that are probably based on the song by Lacome (ca. 3 minutes). There are many versions at youtube, mostly based on the version by Emil Waldteufel (ca. 7 minutes).
Titel page of my copy: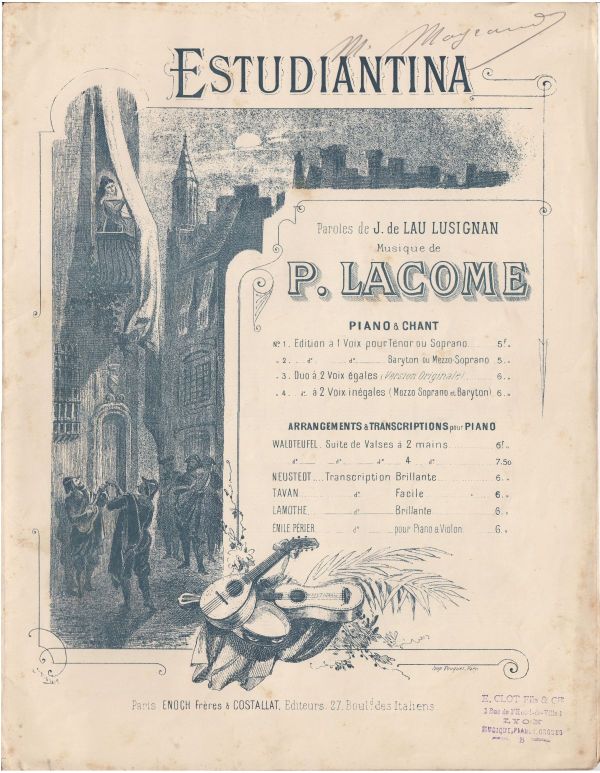 This is a recording by a kind of mandolin orchestra from Chicago named Cuerdas Clasicas String Ensemble from a concert given in the National Museum of Mexican Art (Chicago).
Estudiantina Waltz, Emil Waldteufel.
Cuerdas Clasicas String Ensemble performs Estudiantina Waltz by Emil Waldteulfel at the National Museum of Mexican Art.
A very special version for an old Mira 15 1/2 inch music box:
Mira 15 1/2 INCH Parlor Grand Music Box Playing "Estudiantina" Waltz
Without a doubt one of the sweetest and most highly spirited arrangements on a music box disc is here before you. This is the lovely Estudiantina (Band of Students) Waltz composed by Emile Waldteufel in 1883. When I first listened to this disc on one of our Mira 15 1/2 inch music boxes I was reduced to tears as the disc played. It remains to this day one of my all time favorites for listening. I hope that you enjoy it as well and thanks for stopping in for a visit!
Playlist with more versions:
Playlist Estudiantina Waltz
Additional Information
Historical recordings in the National Jukebox of the Library of Congress:
http://www.loc.gov/jukebox/search/results?q=estudiantina%20waltz
Free sheet music for mandolin and piano by Jean Pietrapertosa on my website:
Homepage Cuerdas Classicas:
http://www.cuerdasclasicas.org/
Cuerdas Clásicas is a not-for-profit organization with the attributes of troubadours and bohemians who at times present themselves with tuxedos to interpret melodies of semi-classical nature. In their other appearance as members of an estudiantina , the attire is Spanish as well used in the 16th century with the purpose of promoting art culture.

The organization is composed of individuals with artistic appreciation whose objective is to promote the Mexican and Spanish heritage in the form of music. Converting into satire the quirks of society and the community in general. Like men of the twentieth century, they aspire to the elevation of the human spirit to its maximum potential, without forgetting their Hispanic heritage. They manage to extract the best of the National (Mexican) and international music and masterpieces of music.
Free sheet music of Estudiantina by Emil Waldteufel on the IMSLP site:
http://imslp.org/wiki/Estudiantina,_Op.191_%28Waldteufel,_Emile%29