I have just discovered the videos with the Enoggera Ensemble from Brisbane, Australia. This Classical Folk Quartet is composed of four instrumentalists playing different kind of guitars, ukuleles, banjos and also mandolin. The repertoir includes music that was popular and has been played in Australia at the end of the 19th century, including Ragtimes, Dances, Serenades or popular pieces for the piano.
The Enoggera Ensemble recreates Australian colonial music for a modern audience, led by guitarist Duncan Gardiner with mandolinist Marissa Carrol, banjoist Joel Woods, and guitarist Dominic Ward.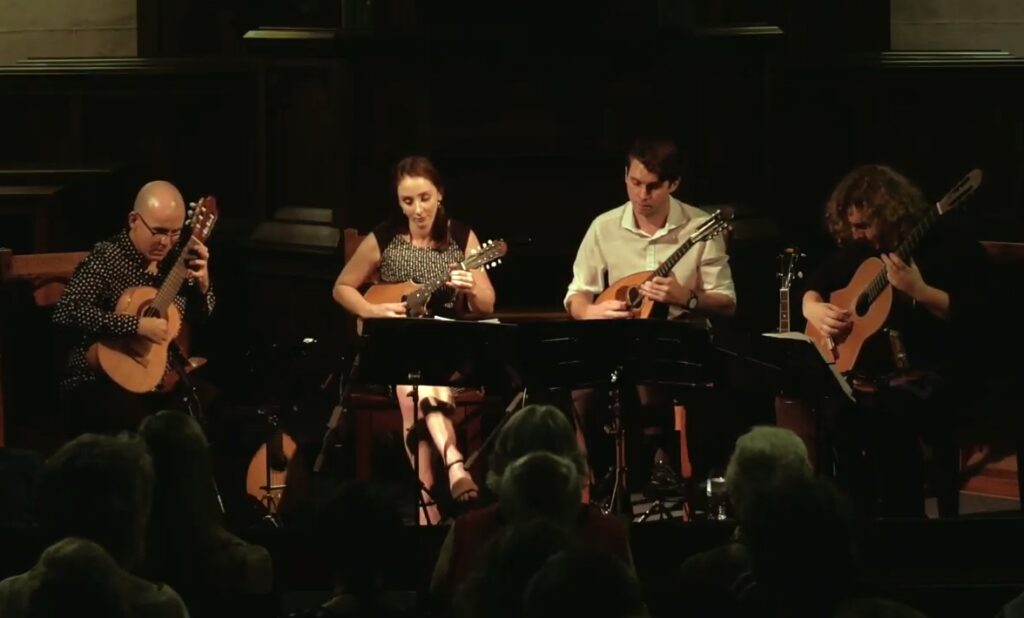 Duncan Gardiner is a guitarist, composer and teacher. He is researching about the history of the guitar in Queensland from 1842 until World War Two.
The Enoggera Ensemble has many great videos of their repertoir, including some complete concerts from last year. I have compiled the best videos in my playlist.
Playlist Enoggera Ensemble
Additional Information
Interview: https://www.thecreativeissue.com.au/day-in-the-life-duncan-gardiner-from-enoggera-ensemble/
TCI: What is the story behind Enoggera Ensemble?
DG: I started my research in 2017, looking into the history of the guitar in Queensland, since earliest colonisation. I was organising some concerts of historical guitar music in Queensland. Looking through the newspapers from the late 1800s to the 1920s-30s, I found the guitar was often paired with other plucked instruments, like mandolin and banjo. Queensland was home to many, like 20 or 30 or more large banjo, mandolin and guitar (or BMG) clubs, mandolin orchestras, guitar ensembles, and even Hawaiian groups with ukuele.
I wanted to put on a recital of music for guitar in an ensemble setting. I knew many guitarists, and I found someone who could play the banjo and mandolin, so I gathered the group together. We just went to do one concert, but it was so successful that everyone was telling us to form an established group and keep going. So, that's basically how it started.