Sometimes I like to look at the covers of old sheet music editions. Recently I have often used the Illustrated Sheet Music Collection at http://www.imagesmusicales.be/ besucht.
On this page you can find a collection of sheet music from the time between 1890 and 1940. More than 10000 covers of sheet music have been scanned and can be viewed online. You can also search trough the collection. This collection does also include compositions for guitar, mandolin, banjo or ukulele and you can find pictures of those instruments on the covers.
This is a private collection of more than 10.000 illustrated sheet music mostly from between 1890 and 1940, with a particular interest for Art Nouveau and Art Deco. Although the collection centers around French illustrators (68%) it also contains hundreds of beautiful illustrations from Belgium (13%), the United States (6%), Great Britain (4%), Italy, Germany, Austria, The Netherlands, Argentina, etc.

Welcome to our sheet music collection!

These are randomly selected images of vintage sheet music covers. Click Home to refresh, or click the browse and search links in the upper right menu to view many more illustrations grouped by art style, illustrator, publisher, song title, music genre, or topic…
On the home page a randomly chosen selection of some covers is displayed – this is an example: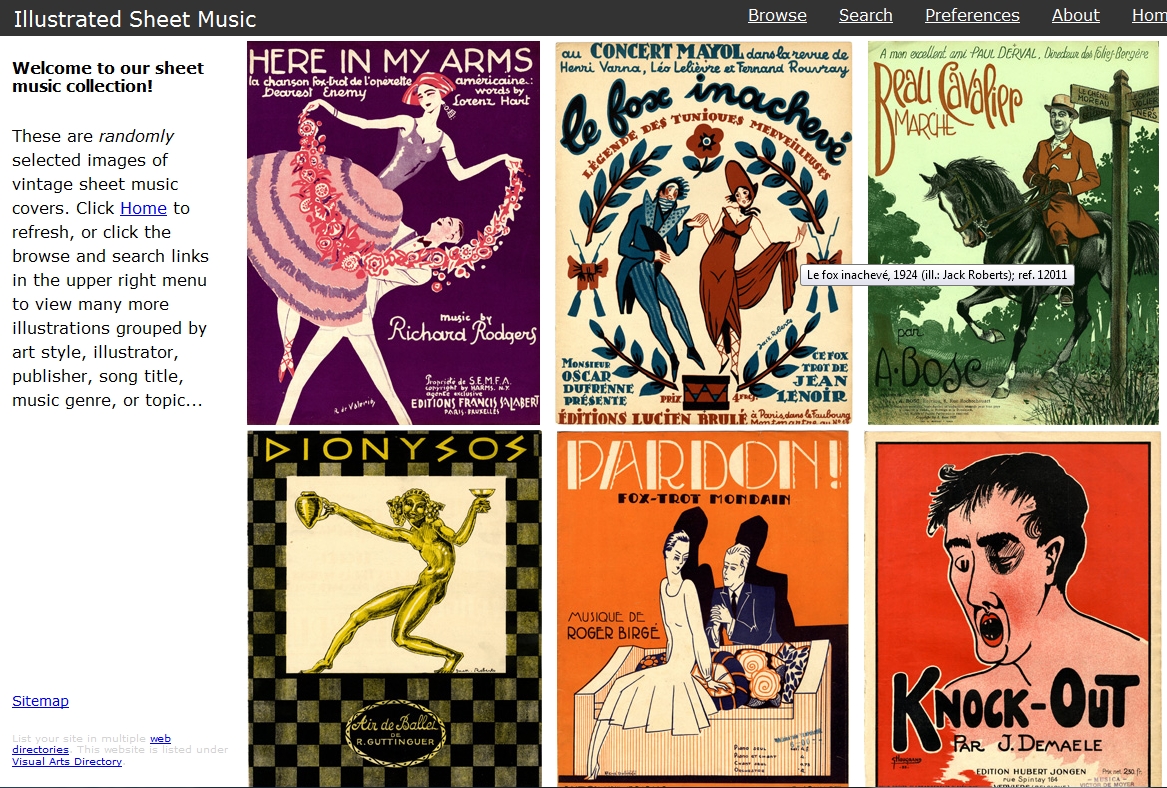 Using the search you can search for illustrators, composers, singers, texters and words contained in the titles of the sheet music.
A great site for everybody whjo loves old sheet music!
Website Illustrated Sheet Music: http://www.imagesmusicales.be/
Guitar, Banjo and Ukulele Music: http://www.imagesmusicales.be/search/topic/Guitars%252C-Banjo%252C-Ukelele/1076/ShowImages/8/Submit/
Merken